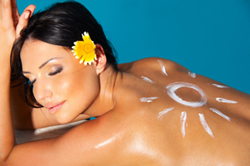 With all the warnings of tanning beds causing skin cancer more and more people are using self-tanners to get their glowing, bronzed skin.  If you are new to self-tanning you will most likely encounter a few mistakes along the way.  Here are some tips to help with self-tanning screw ups.
If you forget to wear mitts, or just don't want to you may end up with orange hands.  To get rid of your oompa loompa like hands, rub a lemon over your palms, then rinse after two minutes.  If you have any nicks or cuts on your hands it could be painful, so beware.
If you end up with streaks on your body you can buff those out with a damp washcloth.  Or grab some shimmery, bronzer and spread it over your skin to cover up the mistakes until your fake tan wears down.  Another great idea to mask the streaks is to take one part of your favorite moisturizer and mix it with two parts of liquid bronzer.  A good trick is to save your old broken pieces of bronzer to mix with moisturizer to create an instant glow.
Sometimes you can find yourself looking spotty in areas like your knees, elbows and ankles.  An easy way to get rid of the darker spots is to rub them with a thin layer of whitening toothpaste and then rinsing.
If those tips don't help then I suggest taking a shower and exfoliate your entire body.  It will help break down the self-tanner quicker.
Read my review of my favorite, affordable self-tanning spray.