I know, my reviews have been lacking. I've been extremely busy with my business and just haven't had the time. I had a shower this morning (obviously) and after washing my face with Amie Naturally Kind Morning Clear Purifying Facial Wash I decided I had to write a review on it cause I've been really enjoying it for the past few weeks.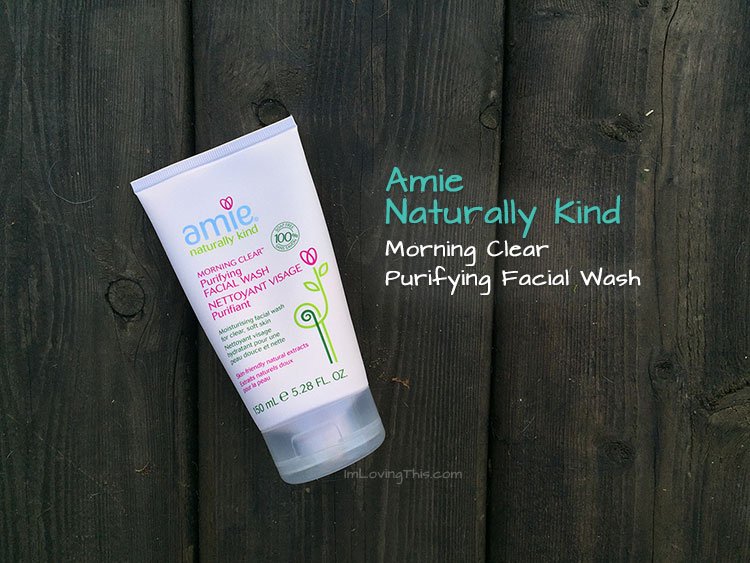 I was sent Amie Naturally Kind Morning Clear Purifying Facial Wash for review quite some time ago but have so many products on the go that I only started using it when I came home from the states. They never asked me to post a blog or anything, but just to try it out and let them know what I think of it. I decided to write a whole blog post as I like telling people about products that I enjoy because maybe they'll enjoy them too :D. I've tried a few of Amie's products in the past and have liked most of them. Here are my reviews on some of their other products if you are interested…
A little bit about Amie Naturally Kind Morning Clear Purifying Facial Wash
Amie Naturally Kind Morning Clear Purifying Facial Wash has a gentle formula made from high-quality naturally derived plant extracts. It is terminologically tested, pH-balanced, free from parabens, sulphates, mineral oils, petrochemicals and animal extracts. Their products are suitable for vegetarians and vegans.
This facial wash claims to remove dirt, oil and make-up leaving skin beautifully soft and refreshed. The mayblossom and elderflower help control oiliness and prevent blemishes while orange blossom and raspberry tone and refresh. It contains natural moisturizers to ensure that your skin is not dried out.
What I think of the facial wash
First off Amie's skincare line is VERY affordable, very comparable to products in the drugstore. I think it's hard to find natural products that are inexpensive. I can't tell you exactly how much this costs in Canada because I can't remember what the price was when I saw it at Shoppers Drug Mart. Their website has it listed at £4.95. The flip-top bottle has 150 ml, so I think that is a great price.
Amie Naturally Kind Morning Clear Purifying Facial Wash has a light scent to it. I'm not big for scented products but really enjoy this scent. I find it very relaxing, I can't really describe what it smells like but it must be how mayblossom, elderflower, orange blossom and raspberries smell mixed together.
This product works just like any other cream cleanser. You just smooth it over your damp face and then rinse.
Once I rinse it off, my face feels so smooth and moisturized. It feels like I'm washing my face with a moisturizer. It doesn't leave any residue behind, it just feels really clean and moisturized. I've actually never had a cleanser leave my face feeling the way this one does. I don't even feel the need to put moisturizer on after, but I always do anyways.
I don't know how well this would work for removing makeup, I haven't fully put it to the test. I prefer to use these types of cleansers in the morning when I shower, so naturally I wouldn't have makeup on as I always take it off when I sleep.  Plus I haven't even had a full face of makeup since I started using this. I will let you know though. It's so gentle that I have a hard time believing that it would remove all my makeup. But you never know.
I should also mention that the Amie Naturally Kind Morning Clear Purifying Facial Wash only has 96.8% natural ingredients. So it isn't 100% all-natural although you might think it is by quickly reading the bottle. I did. It is 100% soap free though if you are looking for a soap free cleanser. Maybe that is why it feels so soft on my skin.
I really enjoy this cleanser and I would purchase it again. I just can't get over the fact of how moisturized my skin feels after using it. This is going to be a wonderful cleanser for the winter season. 😀
What is your favourite cleanser? Let me know in the comments below, I love trying out new skincare.