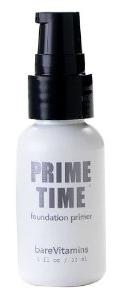 I like Bare Escentuals foundation so decided to pick up their Prime Time Foundation Primerlast time I purchased the foundation.  I must say that I love it.  It goes on so smooth and makes my face feel smooth as well.  It takes a few minutes to dry after you apply it, that is probably the only downfall.  It helps the bare Escentuals foundation go on smoothly and blend in flawlessly.
The bottle was $22, which isn't too bad. I can't tell you how long it will last as I've only been using it for about two weeks.  But I think it will last me awhile and that it was well worth the price.
The primer comes in a little white bottle with a pump, you just pump one full pump onto your clean hands and rub it all over your already moisturized face.  Then you apply your foundation as usual.
The Bare Escentuals Prime Time Foundation Primer is fragrance and oil free.  It is very lightweight and does not clog my pores.  I definitely recommend trying this foundation out for yourself.