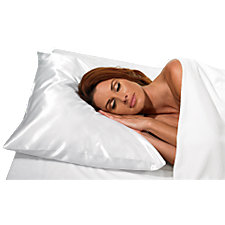 Not only does sleeping on a satin pillowcase make you feel like a princess but it can also do wonders for your hair and skin.
Here are some reasons why you should sleep on a satin pillow case.
Satin has a smooth texture so it reduces the likelihood of hair breakage, split ends and matting.
Satin doesn't absorb moisture so your hair and skin stay hydrated.
Satin pillowcases prevent sleep wrinkles.  You know those embarrassing, annoying wrinkles that you wake up with on your face some mornings?
It can also help prevent future wrinkles because your skin slides smoothly along the satin and doesn't tug or pull.
Just one of those reasons was enough for me to want to sleep on satin pillow case for the rest of my life.  Especially the one about preventing future wrinkles.
You can purchase satin pillowcases here.  Make sure the fabric is 100% silk/satin.