I've never been one to fill in my brows but would occasionally with powder.  I decided I wanted to start experimenting with brow products but didn't want to spend a bunch on a high-end product to start.  I was placing an order with BH Cosmetics for their 6 Color Concealer & Corrector Palette and decided to add the Flawless Brow Trio in Light to my shopping cart with it.
The BH Cosmetics Flawless Brow Trio retails for $6.95 on their website but they always have sales and I think I paid around $3-4 for it.  The palette is black, small and sleek which I really like.  It's sturdy and works well for traveling.  It includes a good sized mirror and a mini brush which I never use.  
You get three brow products obviously, since it is called a trio.  It includes a wax product (0.9 grams) and two powder products (1.5 grams total).  The one powder is on the lighter side and the other is darker.  I would say that the wax is a shade between the two and is a warmer brown.  
I've dipped into the wax the most, it I pretty much only use it.  The powders work but I think the wax gives me a more natural look.  If I want my eyebrows to last even longer I'll fill them in with the powder over the wax to help set it.  The powders are a little chalky but if you run a clean mascara comb through your brows after it smooths it out and looks natural.  I haven't touched the darkest brow powder because it is too dark for my eyebrows.  The product stays set in my brows all day which is a plus cause no one wants their eyebrows smearing down their face.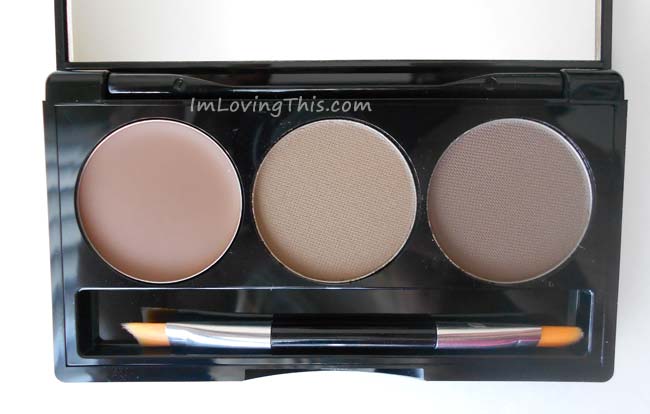 I'm pretty impressed with the BH Cosmetics Flawless Brow Trio as it was only a couple dollars and it does the job for me.  I've been using this palette regularly since I have bought it and it barely has a dent in it.  I'd recommend it to people who are just starting with the brows as it is inexpensive and easy to work with. 
While finishing up writing this review I was re-swatching the products to make sure I didn't miss anything.  I noticed that the powders had quite a bit of shimmer in them.  I've never noticed this before so am wondering if somehow shimmer got in there from my other products?  Very strange.  It appears the more I try to dig into the product the more the shimmer appears.  Maybe there was no shimmer on the top and that is why I never noticed since my powders still looked new before I started this review.  Anyways, now I'm a little confused about that and wouldn't recommend the powders if there is shimmer in them.  The darkest colour seems to be the one with the most shimmer.  Either way, I would purchase the BH Cosmetics Flawless Brow Trio just for the wax cause I really like it.  They should sell the wax portion separately. 🙂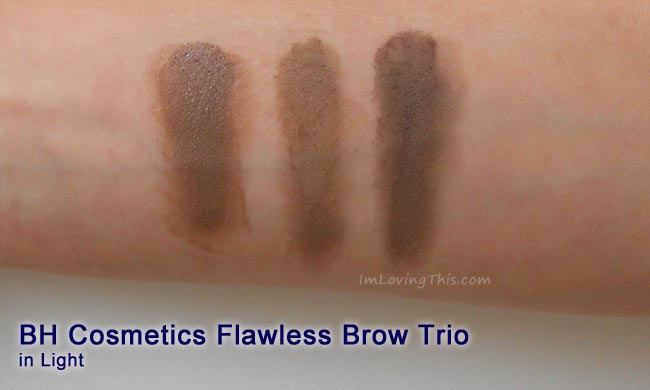 Do you fill in your brows? What is your favourite brow product? I'd like to try some other ones, this is so far the only one I've found that I enjoy.  I'd like to try Anastasia Beverly Hills products but they are fairly expensive and I'm not that into my brows.  I much rather splurge on foundation or skin care.