This month, Birchbox partnered with Women's Health Magazine to power up our month.  I received my July Birchbox a couple days ago and am very happy with the items I was given.
This month I received four products and two foil packets of the same item.  Below is what I received and my thoughts on the products.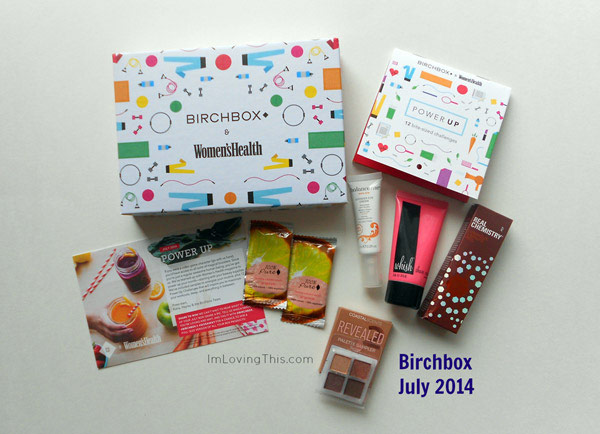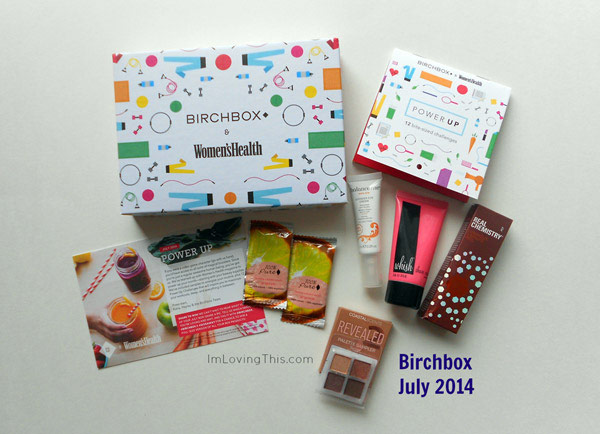 Balance Me Wonder Eye Cream – 7 ml
I was most excited about this product because I almost out of my current eye cream and was about to order a new one.  The eye cream is a decent sized and will probably last me a few months, just this product alone makes up more than the $10 I paid for the box.  The full size retails for $38 and is 15 ml.  The Wonder Eye Cream tube says that is is 99% natural and that they are against animal testing.  The eye cream goes on smooth and has a herbal scent, which I enjoy.  It states that it helps with wrinkles and dark circles, I will let you know what I think of this eye cream as it takes way more than a few days to see results from skincare products.
Real Chemistry Luminous 3-Minute Peel – 5 ml
This face peel says that it is acid free and gently exfoliates for instantly softer, smoother, brighter skin.  I am excited to try this as I love any time of mask.  I will try it tonight and let you know what I think.  I am hoping I can squeeze two uses out of this sample.  The full size retails for $48 and is 50 ml.  I probably wouldn't buy this product because it is quite expensive and I do have several drugstore prices masks that I enjoy quite a bit.  But I love trying luxurious face masks when I can get my hands on them.
Whish Shave Crave Shaving Cream in Acai Grapefruit – 22 ml
I don't really have a preference for shaving cream and just buy whatever.  I would never buy a high-end shave cream as I am fine with just using one that costs me a couple dollars.  I will probably save this and take it with me on a trip or something because it is a convenient size.  I love Birchbox because I get so many small sized products that I can take traveling with me.  The shave cream smells really good and after applying some to my hand I can see that it will leave my legs moisturized and feeling smooth.  If you are looking for a high-end shave cream this might be one to try out.
Update: Tried the Whish Shave Crave Shaving Cream on a weekend trip and thought it was alright.  I really enjoyed the smell, it was quite refreshing.  I found that I needed quite a bit of product to cover my legs which was disappointing as it is an expensive shave cream.  I thought it left my legs smooth after but I didn't really notice any difference from my usual shaving cream.  So overall, I wouldn't purchase this product on my own for $20 a bottle.
Coastal Scents Revealed 2 Eye Shadow Palette – 2.4 g
I was actually curious about this palette and was happy that it was included in my Birchbox.  I received a mini version with just four of the 20 colours, my quad is called sunset.  I really like the colours, they are very me and something I would wear.  Mine came with 3 shimmer colours, a gold, and two brows and one matte dark brown.  The colours are beautiful swatched and are quite creamy.  This mini quad will definitely be handy for when I travel.
The Revealed 2 palette is probably a great alternative to the Naked Palettes.  There is a set for $34 available on Birchbox's website that comes with three brushes.  But currently the stand alone palette is for sale for only $19 on Coastal Scents' website.  I might have to purchase this palette for myself because it is right up my alley.
100% Pure Gingerade Shower Gel – 2 x 2 ml
I received two foil packets of this shower gel as my 'beauty extra'.  It says that the shower gel is all natural and vegetarian with aloe to help hydrate and green tea to nourish skin.  I will probably also save these for traveling or camping as they are foil packets.  I will update this post whenever I use them and let you know what I think.  The full size retails for $15 and is 390 ml.
I also received a little booklet from Women's Health with 12 bite-sized challenges to help inspire me to maximize my workouts, sleep and everything in between.
Like I said earlier, I am very pleased with this month's Birchbox and hope that next month's is just as good!  I definitely got my $10 worth back in products.  I just got accepted into the Ipsy program after more than 6 month so you might see some posts about that subscription service as well.