This month, June, Birchbox partnered with JetBlue.  I received my June Birchbox yesterday and am still on the fence on if I should cancel or not.  I feel like I get my $10 worth each month but it is never full of things that I will use or want.
This month I received five products and two foil packets.  Below is what I received and my thoughts on the products.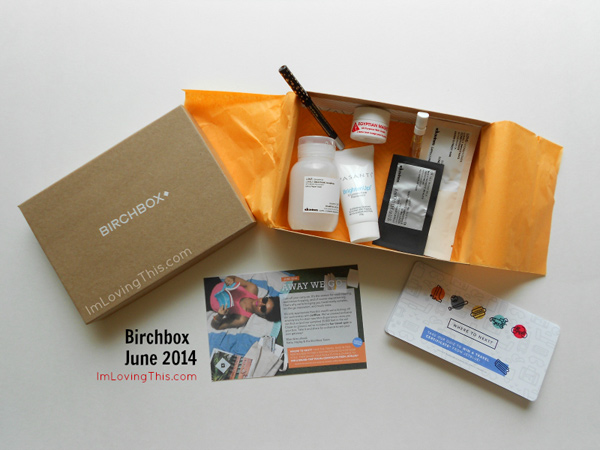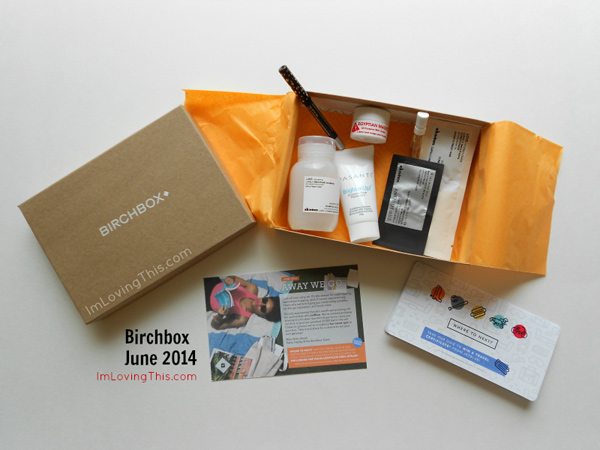 Cynthia Rowley Silver Eyeliner – 0.03 oz.
The eyeliner crayon is very nice, it goes on smooth and silky.  I wish I had received a black liner because I am not sure what I will  do with silver, maybe use it on my waterline or inner corners. I would consider buying other shades, if they were as nice as the silver.  I would love to get it in blue or purple.  The full size retails for $16 and is 0.04 oz.
Davines Love Lovely Smoothing Shampoo – 2.5 fl oz.
I haven't tried this, it smells decent, probably not a smell I'd typically gravitate towards though.  It claims to soften, detangle and tame frizz for remarkably sleek locks.  I also received two foil packets in this line which I will talk about below.  The full size retails for $24 and is 8 oz.
Davines Love Lovely Smoothing Conditioner – 0.41 fl oz.
The conditioner came in a foil packet which is pretty disappointing.  I have really long hair and one foil packet won't give me an idea of if I like the line or not.  I would rather get the shampoo in a foil packet and the conditioner in a bottle.  The full size retails for $27.50 and is 8 oz.
Davines Ol All in One Milk  – 4 ml.
This is a foil packet of a multi-benefit treatment for all types of hair.  I haven't tried it yet but am excited to as I enjoy leave-in treatments.  I do wish it was a bigger size so I could actually see if I like it.  I will probably get two uses out of the packet.  The full size retails for $28 and is 135 ml.
Egyptian Magic – 0.25 fl oz.
I was excited to receive this as I've always wanted to try Egyptian Magic.  I always see it in magazines and celebrities swear by it, although to be honest, I don't really care what they use.  It is used to moisturize, fight wrinkles, treat burns and more.  It came in a jar and is a wax consistency, I am going to have to read up exactly how I can use it.  The full size retails for $38 and is 4 fl oz.
Vasanti BrightenUp! Enzymatic Face Rejuvenator – 20 g
I love receiving skincare items and am happy with this sample.  I thought they gave me a decent size until I opened the tube and it is less than half full.  It is hard to get the product out because it is fairly thick and the bottle is big as opposed to what is in there.  I haven't tried the cleanser yet and will let you know what I think.  It doesn't have much of a scent, which is good because I don't enjoy scented products.  It says to use it 3-5 times a week and massage a pea-sized amount into damp skin and rinse.  I think I will be able to get about 3 uses out of this sample.  The full size retails for $34 and is 4.3 oz.
Joli Folle de Joie de Parfum – 0.6 fl oz.
This was a decent sized perfume sample but I do not like the scent.  It is very floral and not something I would wear.  I'm not the biggest fan of perfume samples because I tend not to like many scents.  It is a good size to keep in your purse to freshen up so I will probably give it to someone if they enjoy the scent.  The full size retails for $98 and is 3.4 fl oz.
Overall I think I did get my $10 worth.  I will probably keep my subscription for now because it is only $10 a month and that includes shipping too.  I already reached 100 Birchbox points and ended up purchasing the ORIGINS GinZing Refreshing Eye Cream and received $5 off with my points. 🙂
Are you subscribed to Birchbox?  Would love to see what you received, tweet me at @ImLovingThis and show me what you received. 🙂