I received my Birchbox finally, a week after my Ipsy and wasn't too thrill with what was inside. I think I'm going to cancel and stick with Ipsy. Or maybe wait one more month? Ahh, decisions. 
I've always liked Birchbox cause they tend to give more skincare items than Ipsy. Ipsy tends to lean more towards just makeup. 
I wasn't even going to post this cause I don't have much to say, but I said in my last post that I was waiting on my Birchbox to come in. So I thought I better share with you what I received…
The box is so pretty, I really like when Birchbox customizes their boxes. I will have to find some use for this box cause I can't throw it away. This month's theme is "Say Yes to Adventure". 
Here's that I received, I don't really have an opinion on the products yet cause I haven't had much chance to use them so bare with me.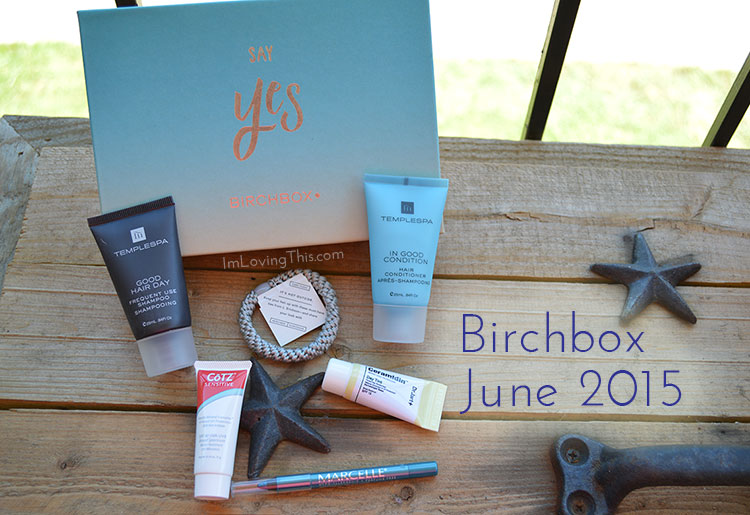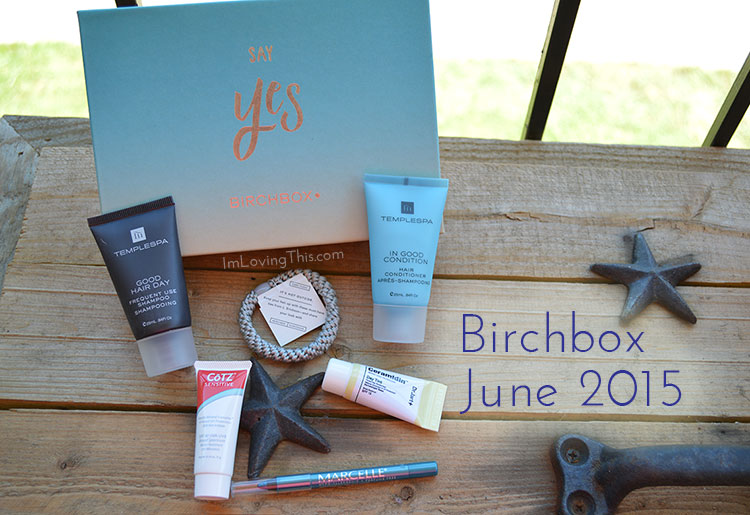 Cotz Sensitive SPF 40 Sunscreen – 5 g
I swear I get sunsreen in my Birchbox quite often. I don't really care to test out sunscreens cause I'll never pay $20 for a sunscreen. I just buy basic ones at the drug store. I tried to squirt some out of the bottle and it's pretty much empty, so that's disappointing. Anyways, it doesn't really have a scent which is nice but I can't see myself buying a sunscreen for $20. 
DR. Jart+ Ceramidin Day Tint – 5 ml
This is a type of product that I enjoy. The shade is a little light for me right now so I'll probably save it for fall/winter. I'm not sure if they just have one shade or what cause there's no shade on the bottle. This is the same sized sample as the sunscreen but it has more product in the bottle. The tint smells herbal, which I enjoy, but some others might not. A full bottle goes for $48, which seems a little steep to me. I applied it to my hand and it doesn't really provide much coverage. I think you could find a better tint in a lower price range. I feel like this post sounds so negative, but I like to be honest with my reviews.
Marcelle Waterproof Eyeliner – .8 g
Blue Lagoon is a very pretty colour and one I'd probably wear. I have a few liners in similar colours and typically wear them during the summer in my waterline. This liner glides on so smoothly, it like melts into your hand as you apply it. I'm not sure if it's actually waterproof like it claims or how long it lasts. It's so buttery that it gives me a feeling that it might wear off quickly. I'll try it out over the next few days and let you know. As of right now it smudges pretty easily off my hand. The full size is $11 which seems reasonable if it gets the job done although there's a cheaper alternative such as the L'Oréal Infallible Silkissime Eyeliners.
Temple Sap Good Hair Day Shampoo and Conditioner – 25 ml
I like receiving hair treatment or styling products but not so much shampoo and conditioners. I feel like the samples are always too small for me to figure out what I think about them. I have hair that is almost to my ass so I need a decent amount of product when I wash my hair. This line smells very herbal which as you know I like. I bet it feels refreshing on the scalp. The price point isn't too bad at $14 per bottle. I'm not going to try these now, I'll save them for a overnight trip somewhere.
Update: I do not recommend this shampoo and conditioner. It left my hair feeling so dry and tangled, I couldn't even brush through it. I had to apply a ton of restorative styling products to even get my Wet Brush through my hair. Probably one of the worst shampoos and conditioners that I've ever used. I couldn't believe how awful my hair felt after using it. Stay away from this duo. 
L. Erickson Grab & Go Ponytail Holder – 1
It says on the card that they added this pony tail for a "chic pop of color". Hmmm I received a grey one, not sure how that adds a pop of colour. Anyways, I'm not excited about the hair tie, I guess it's a bonus item though. I would never pay $18 for a package of hair ties, ever. I'll try this one out at some point but to be honest I don't really like it. It's quite bulky. 
Well that is all I received in my Birchbox. I told myself I'd cancel either Ipsy or Birchbox this month but for some reason I can't bring myself to cancel one.
Which one you would cancel? 
What did you receive in your Birchbox?