This will be the last Birchbox you will see from me for a few months.  I won't have a permanent address for a bit so have to cancel my subscription this week.  I actually don't feel bad about cancelling because I'm not too excited about my box this month.
October's theme is Fanfare for blockbuster season.  Here's what I received in my Birchbox this month.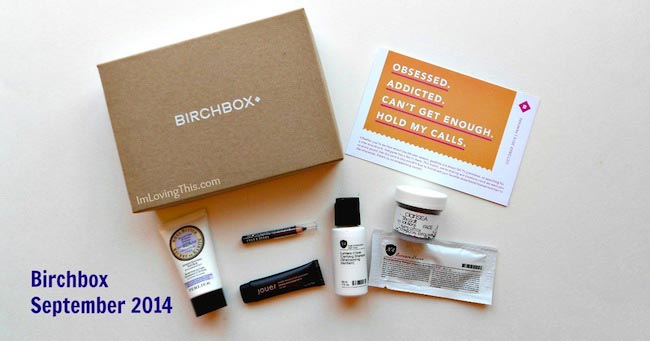 Clarisea Rapid Detox Charcoal Exfoliant – 1.1 ounce
Charcoalseems to be the thing right now as I've been seeing charcoal products popping up everywhere.  One of my favourite facial scrubs contains charcoal so I'm excited to try this product out.  This exfoliant is made with sea salt and scorched bamboo, it's all-natural and claims to battle blackhead and oils.  It comes in a dry, powder, salt form and you can add it to your favourite cleanser or just plain water.  It doesn't have much of a scent so that is a plus in my books.  I'm excited to try it out and will let you know what I think.  The full size retails for $18 and is 4 ounces.
Jouer Matte Moisture Tint in Nude – 5 ml
I enjoy receiving these types of products and I guess I'm lucky because they typically match my skin tone. This is basically a tinted moisturizer with sunscreen.  It has an SPF of 15, most people typically want at least 30, but I don't mind SPF 15.  It glides on smooth onto my hand, I'll probably test it out this weekend and update you on it.  I noticed right away that it has quite shimmer in it so I'm not sure if I'll like it. The Jouer Matte Moisture Tint retails for $38 for 50 ml which is more than I'd like to pay for this product.  I haven't found anything that I like more than the Revlon PhotoReady BB Cream, which is an inexpensive drugstore product.
Lord & Berry Pailettes Glitter Eye Pencil in Black
Once again, another eyeliner, like I've said before, I'm pretty set on certain ones and don't really enjoy receiving these samples.  This is a very small pencil, it will probably get lost and it will be hard to be precise with it.  It goes on patchy when I swatch it and has silver sparkle in it.  It's not big chunky sparkles so it is wearable but I don't think I'll ever wear it.  I thought it might be fun for New Years Eve but it doesn't go on very nicely so I wouldn't want to use it for a special event.  The full size retails for $18 and is 0.04 ounces, definitely not worth $18.
Perlier Body Cream – Shea Lavender – 1 fl oz.
This body lotion has a very strong lavender scent, I can smell it before even removing the safety cover.  It says it is 100% certified organic and contains 25% shea butter.  I'm not going to open this and try it because I hate the smell already and am going to give it to my Mom since she likes lavender.  It's probably a really nice lotion but I can't bare the smell.  The Perlier body cream retails for $28.45 for 6.7 ounces.
Number 4 Hair Clarifying Shampoo – 30 ml
This vitamin-rich botanical shampoo is suppose to gently purify hair while restoring moisture and shine.  I'm going to use this the next day after leaving Oklahoma as their water is horrible and this will help my hair.  It smells good but I typically don't like getting these samples because I never get enough to see if I like it.  They also included a "bonus" conditioner foil packet.  I really wish they'd give me the shampoo in the foil packet and the conditioner in the bottle.  I have really long hair so I use a lot of conditioner.  The full size bottle of the shampoo retails for $32 and is 8.5 ounces, which is too expensive for me to repurchase.
So as I mentioned before, I'm not too thrilled about this month's box.  The Clarisea Rapid Detox Charcoal Exfoliant is probably the only product I'm excited about.
What did you get in your Birchbox? Let me know in the comments below or on social media.
You can find me just about anywhere with the username "ImLovingThis".