This month Birchbox came in a pretty pink, blue, green and white box that just might be the most exciting part of the entire box.  It is Birchbox's four year anniversary so they gave boxes with patterns on them to celebrate.  I received 5 products in my box this month and one bonus item.  This may or may not be a negative post because I'm not too thrilled with my BirchBox, or Ipsy this month.
Well, I'm just going to start with pretty much the only thing I was excited about in my box.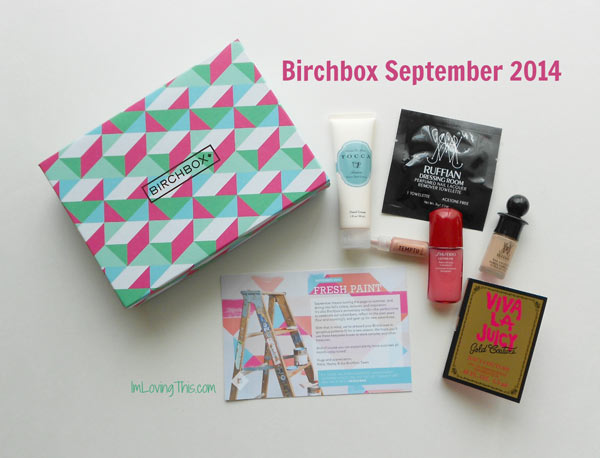 Shiseido Ultimate Power Infusing Concentrate – 10 ml
I like Shiseido products but never buy them because they always cost more than I'd prefer to spend so I was happy to receive a sample in my Birchbox.  The full size of this product retails for $65 and is 30 ml, which means I got a sample size that is 1/3 the actual size which seems pretty good.  I haven't used it yet and can tell it is going to be a pain to get out as it's in a hard plastic bottle.  It's going to be a struggle like trying to get Heinz ketchup out of the glass bottle.  The serum smells fresh and clean, which I enjoy.  I can't wait to try it tonight, I have a feeling it is going to feel luxurious on my face. It says to use it after cleansing and toning but before applying serum and moisturizer both morning and night.
Temptu S/B Highlighter in Champagne Shimmer – 0.1 fl oz
I was confused as to why I received this sample because I thought it was for the Temptu airbrush system, and it is.  I thought it was a stupid sample to include because I doubt many people have that airbrush system.  They said you can dab it on your cheekbones, brow bones or anywhere you'd like for that all-over glow.  The tube does allow you to dab it on but I feel like you don't get the same effect as you would with the airbrush system.  The colour is really pretty, but you do need to put on quite a bit to achieve a glow.  It is probably too much for daily wear, but would be nice for a night out.  I can't forget to mention that the smell is just awful.  It smells kind of like nail polish, which is very off-putting.  I can't smell it after I rub it into my skin but just knowing it smells like that makes me feel like it can't be very good for my skin.  The full bottle is 1 ounce and retails for $27.50.  I wouldn't purchase this just because the smell worries me, although I think it's very beautiful.
Juicy Couture Viva La Juicy Gold Couture – 0.05 fl oz.
I don't like receiving perfume samples and state in my profile that I'd prefer not to receive them,  I tend to get one every few months.  I thought I might enjoy this one as I do like Juicy Couture Viva La Juicy but this one is just a little too strong for me.  I wore it out today and the smell dyed down as I wore it and I liked it a bit more but I wouldn't buy this one.  It actually reminds me of a mix of Viva La Juicy and Guess Gold.  In case you are wondering, the perfume is a blend of wild berries, honeysuckle and warm caramel.  The full size retails for $94 and is 3.4 ounces, although they probably have smaller sizes available for purchase.
Tocca Crema de Mano – Bianca – 1 fl oz.
I received a hand cream in my Ipsy too which I wasn't excited about.  I have so many lotions and creams and I don't know when I will ever use them.  I feel like I should stop opening them and give them away but then I can't write a review on them for you guys.  The Bianca lotion is enriched with natural extracts from coconut oil, shea butter and aloe, it's also paraben free.  The scent is green tea and lemon, I'm not a fan of lemon but I do like the scent of this lotion.  The lotion is very light and soaks right into my hands.  I might have to use this on my legs because it will make them smooth and leave them glistening just like it did to my hands.  So I guess now I've change my mind about receiving it as I'm really enjoying the hand lotion right now.  The full size retails for $20 (the card says $10 for that's not right) and it is 4 ounces.
Ruffian Nail Laquer in Ruffian Naked – 5 ml
As soon as I opened my box and signed into my account and ticked off that I love nail polish.  All the nail polishes I have received in my Birchbox are colours that I would never pick or wear.  I'm a nail polish junkie and I'm pretty particular to certain brands.  The colour I received is Ruffian Naked which is a nude, and they gave me the full size bottle, which is nice I guess.  Ruffian is only available on Birchbox and the bottles run for $10 each.  I don't have much to say about this nail polish because I haven't worn it and probably never will.
Birchbox also included a Ruffian Perfumed Nail Lacquer Remover Towelette for me as a bonus item.  These are always handy when traveling and I will probably save it for a trip.  I don't ever buy these nail polish remover towelettes because I think they are expensive and a bottle of remover and a cotton ball works perfectly fine for me.  A set of 10 of these retail for $12.
What did you receive in your Birchbox?  Tweet me and show me cause I'd love to see!