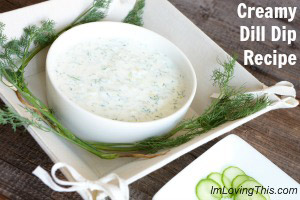 I am obsessed with everything Dill.  Especially dill pickle popcorn seasoning, my favourite one is by Clubhouse.  My friend brought a dip dip over one day and I loved it, so naturally I asked her how she made it.  The next day I whipped up my own version of her dip.  I tweaked it a bit and ended up making it a ton over this past summer, it's really easy to make and tastes delicious.  I love taking it on the boat or to summer BBQs, it's a cold dip so it's great for hot days.  You can dip veggies or crackers in it, or even spread it on a baguette.
Feel free to add more or less of all the ingredients to suit your taste.  I usually end up adding a tablespoon or two more of the sour cream to mine because I enjoy the sour cream taste more than the cream cheese.  This recipe makes about two cups of dip so sometimes I half the recipe when I'm making it for myself.
Creamy Dill Dip Recipe
Ingredients
1 ounce package of light cream cheese
1 8 ounce container of light sour cream
2 tbsp of mayonnaise
1 tsp of ranch dip mix
1/8 tsp of onion powder
1 1/2 tbsp of fresh chopped dill.
pepper to taste
Directions
Set the cream cheese out on the counter to soften for a bit, usually around 30 minutes. Once softened then put all the ingredients into a bowl and mix with a mixer until smooth.
You may want to add more dill depending on your tastes. You could also add red pepper flakes if you enjoy spice. I usually end up adding extra dill and sour cream. This dip tastes better if you let it sit in the fridge overnight. Store it in an air-tight container for up to three days.