Loose Button Luxe Box is a monthly membership service that delivers beauty samples to your door.  It costs $12 a month and that includes shipping. It ended up costing me $13.44 because of taxes.
I thought the box was really cute and it was wrapped pretty and had a cute little sticker on it that said "made for Danielle".  It did take me awhile to get my box.  I didn't get it till mid December.  Here is what I got inside and how I feel about each sample.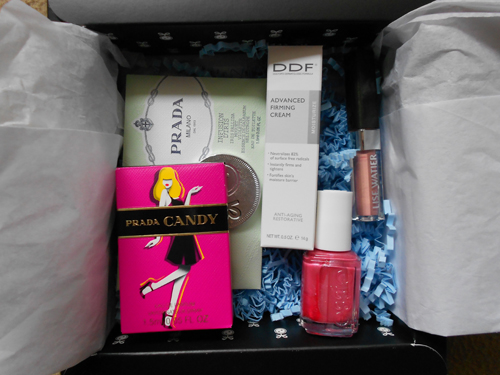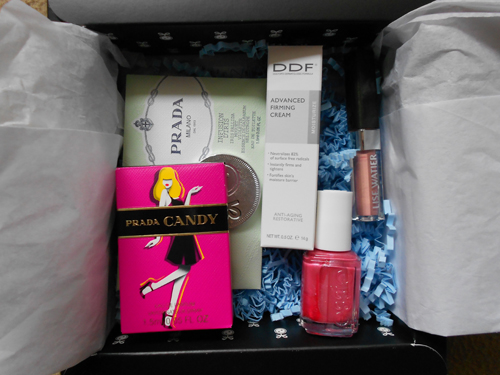 DDR Advanced Firming Cream – 14 g. Regular size is 48 g. and retails for $140.
I think it is a good sized sample, I have never used this product before.  It doesn't have a scent which I like as I do not like my moisturizers having scents.
Essie Nail Polish in Strawberry Shortcake – full size 15 ml. Retails for $8.
It was nice to receive a full size Essie nail polish as those retail for $10 where I live. But I wasn't impressed with getting a bright pink colour in the winter.  But I definertly will be wearing this colour in the spring and summer.
Prada Candy  Eau De Parfum – 1.5 ml. Regular size is 50 ml. and retails for $96.
I wasn't pleased to receive these perfume samples as I would have much rather had a beauty product.  Personally I am not the biggest fan of perfumes and a lot of them give me headaches.  I didn't enjoy the smell of the Candy perfume.  It was too strong for my liking.
Prada Infusion D'Iris Eau De Toilette – 1.5 ml. Regular size is 50 ml. and retails for $9
Another perfume, as I mentioned before I wasn't thrilled to get perfume in my box, especially two.  One would have been fine.  The smell of this one wasn't for me either.  The perfume samples were really small and I could have probably asked for a sample like that at a department store.
Lise Water Plumpissimo Le Gloss in Nude – 1.5 ml. Regular size is 6.2 ml and retails for $20.
This is suppose to make your lips look fuller and sexier.  The colour is pretty but as soon as I put it on my lips I almost barfed.  It tastes nasty, eww.  I'm not sure if it plumps your lips as I didn't leave it on my lips long enough.  It does look smooth on my lips though.
I also receive a little chocolate in my box because it was a holiday edition box.
I noticed something while writing this blog post that Luxe Box stated on my explanation sheet
"Surprise! Each month, we pick a few lucky new customers to receive a full-size product and that we chose you! Enjoy."
So does that mean I will not expect to see another full sized product again? That is a little disappointing, so that is the reason why I receive a full sized Essie nail polish.
Overall I am not that impressed with my Luxe Box for December but I would probably give it another month before I cancel.  The only reason why I'm not impressed is because I am not a big perfume girl.  But maybe some other people are and were very pleased with getting perfume samples.  The only product I would buy again from this box is the Essie nail polish.  I haven't tried the firming cream yet so I can't really judge that one.
Learn more about the LuxeBox from LooseButton here.