I've tried several dry shampoos and wanted to let you know what I think of each one as I try them. I think that it would be hard to write an full individual blog post on each dry shampoo because they are all pretty similar and I don't have much to say about them. I either like them or don't.  
I have blonde hair, for reference, so I can't specifically say how any of these shampoos will work on brunettes and other hair colours. I'll list the reviews in alphabetical order so you can find them easily. I will continue to update this post as I try dry shampoos, I will let you know on Facebook and Twitter when a new review is up. You might also be interested in checking out my review directory which lists every review I've ever written.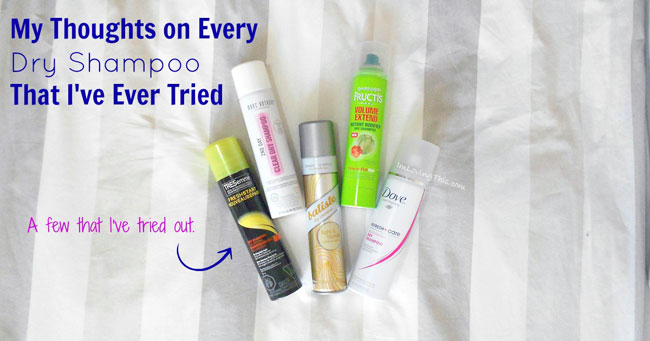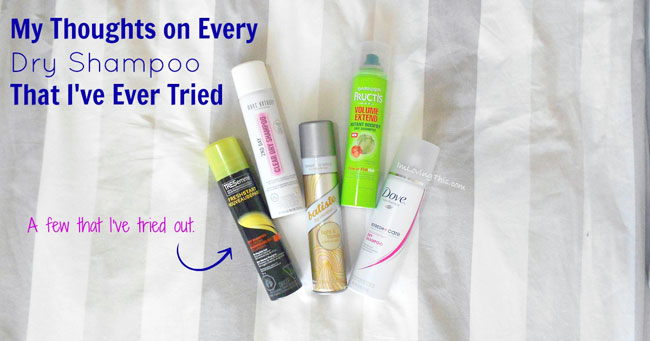 Is it bad that I had that many dry shampoos on the go? I just took that picture and the only one that still has product in it is the Batiste one. 
Here we go…
AG Hair Cosmetics FastFWD Dry Shampoo Review
I have an entire blog post about the AG Hair Cosmetics FastFWD Dry Shampoo that you can read if you'd prefer. But I will give you a quick overview. I love this dry shampoo, it smells great and works very well. The only thing stopping me from purchasing it again is the price tag. This is a high-end brand so it costs quite a bit more than I'd like to spend on a dry shampoo. If you have the money and like to spend money on hair products then you should try it out. Let me know what you think if you do.
Batiste Dry Shampoo Light & Blonde
It took me awhile to try out the Batiste dry shampoos and now I've tried just about all them. I'm going to have to repurchase them all to give you guys an accurate review cause I can't remember what I thought of the other ones. My favourite one is the one for light and blonde hair, not only because it is formulated for my hair colour but because I enjoy the smell the most.  It has kind of a sweet smell but is very faint.  This particular one is tinted yellow (blonde) for that hair colour, so I don't think you'd want to use it on another hair colour.  It doesn't smell powdery at all and works very well.  I will continue to buy this dry shampoo over and over again.  It is a little more money and runs for $5-$10 depending on where you purchase it, but I think it is worth the extra money. 
Dove Refresh + Care Invigorating Dry Shampoo
At first I liked this Dove dry shampoo but my feelings changed quickly.  I find that it has a strong scent and I always want to shower after using it.  This is definitely not suitable for darker hair colours as it leaves a white cast.  It is very powdery and my scalp feels dirty and like it has a ton of buildup on it whenever I use it.  It's taken me awhile to use this dry shampoo up and I basically just used it when I planed on staying inside for the day.  I don't recommend this one and if you are looking for an affordable dry shampoo then go with the Garnier one. 
Garnier Fructis Volume Extend Instant Bodifier Dry Shampoo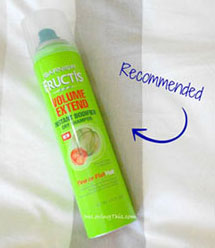 This Garnier dry shampoo is my favourite affordable dry shampoo and  I will be purchasing it again.  It smells like all the other Garnier Fructis products and doesn't have a strong powdery scent like most drugstore dry shampoos.  It doesn't leave a white cast on my hair or make it feel like it their is a ton of crap on my hair/scalp.  I don't really think it gives my hair any added volume, but I don't find that any dry shampoos do, even though people often use them for added body.  My hairs very long, like down to my butt, so it's pretty much impossible to create volume without some work.  I recommend this dry shampoo, it works and is very affordable, you can find it for around the $3 mark.
Marc Anthony True Professional 2nd Day Clear Dry Shampoo
This one can be found at the drugstore and is a little more expensive then your typical drugstore product.  I don't know why I picked up the Marc Anthony dry shampoo, maybe I was looking for something more high-end as it is more expensive than a typical drugstore product.  I won't purchase this one again, and prefer the Garnier or Batiste dry shampoo.  I don't really like the scent of this product, I think it works but there are better ones out there for the price.
TRESemmé Fresh Start Dry Shampoo
This is the first dry shampoo I ever tried and I thought it was good until I started trying other shampoos.  This one is similar to the Dove dry shampoo.  It has a very strong scent and just makes my scalp feel dirty and itchy.  I don't like the TRESemmé dry shampoo at all and actually threw away the last bottle I had of it.  I don't know how it got so popular, maybe because it was like the first drugstore dry shampoo? 
Stay tuned for more reviews.
What's your favourite dry shampoo? Are there any in particular you'd like me to review? 
Let me know in the comments below