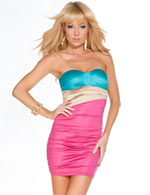 I pretty much shop online for all my clothes and have a few favorite online stores where I shop regularly.  One of my favorite places is Flirt Catalog. Their prices are low, shipping is fast and inexpensive and the quality is great.
They sell everything from bikinis, to dresses to shoes.  I've purchased many things from Flirt Catalog.  I most recently purchased a the Color Block Strapless Mini Dress (see picture to the right).  I also bought the I Love Me More Oversized Tee.  I love them both.  Actually I wore the I Love Me More top yesterday and received many comments about it 🙂
There are always sales going on at Flirt Catalog.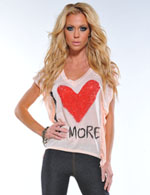 Have you purchased anything from Flirt Catalog?  I'd love to know what you think and what you bought. Comment below.
Below is a picture of me in one of the shirts I purchased from Flirt Catalog.