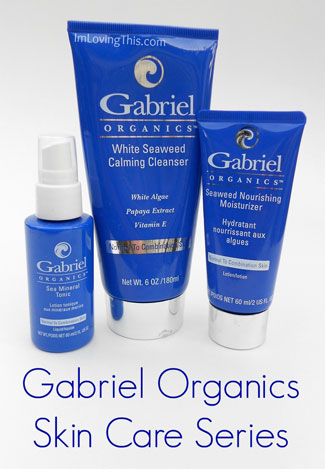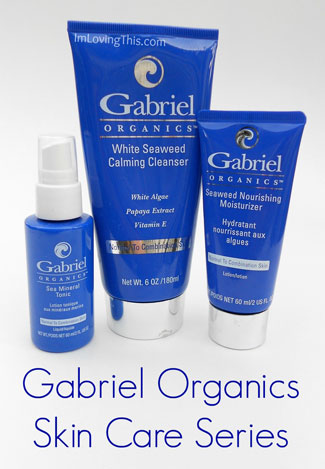 Gabriel Cosmetics reached out to me to ask if I wanted to try out and possibly review some of their products.  Being a skincare junkie, I jumped at the chance to try new products.  I was sent a 3 piece skin care bundle that includes
White Seaweed Calming Cleanser (6 ounces)
Sea Mineral Tonic (2 ounces)
Seaweed Nourishing Moisturizer (2 ounces)
The skincare series that was sent is for normal to combination skin (my skin type).  The entire bundle retails on their website for $39.50.  It comes in plastic zip-up package that I will reuse as a toiletry bag for traveling. 
I received these products months ago and didn't get around to using them until the end of November.  I wanted to use all the products together so I could see how they work.  I finally used up the cleanser this week and am coming close to finishing up the other two products.  So I decided it's time for a review. 🙂
I had never heard of Gabriel Cosmetics before trying these products so let me tell you a little bit about them.  Gabriel De Santino launched his botanical skincare company in 1992 and it has since grown into a beauty empire.  Gabriel Cosmetics products are free from synthetic parabens and they use Grapeseed Extract as a natural preservative.  Their products are derived from natural sources, they are vegan, gluten free and cruelty free.  The only product that isn't vegan are their makeup brushes, but they are cruelty free.  They do not test on animals.  I like that Gabriel Cosmetics is located in Bellevue, Washington as that is fairly close to where I live, so it seems like more of a local brand to me.
Gabriel Cosmetics seems like a good brand for those looking for all-natural, organic skin care and/or cosmetics.  To be honest, that isn't something I look for in products at this time.  But I do want to start looking for more natural products after I use up all of what I already own.
So let me get started on what I think about the products.
Gabriel Organics White Seaweed Calming Cleanser
This facial cleanser is formulated with white algae, papaya extract and vitamin E.  It says that the white seaweed combined with papaya give it the ability to gently cleanse and lightly exfoliate the skin while maintaining its natural moisture and pH balance.  The product is a white coloured cream cleanser.  When applying it to my face it feels as though I am using a lotion, it's very light and smells refreshing.  It didn't suds up at all which usually means that it won't strip and dry out your skin.  It was very moisturizing and didn't leave a nasty film behind after.  I didn't feel the need to follow up with a toner like I do with some facial cleansers.  Overall I really liked this cleanser, I think it worked well and it lasted me quite a while.  The cleanser alone retails for $22.50 and I might buy it in the future when I use up all my other cleansers.
Gabriel Organics Sea Mineral Tonic
This product is to be used as a toner.  It is formulated with blue green algae and extracts of orange blossom to help balance and soothe the complexion.  It also contains oak bark which has antiseptic and stimulating properties to help create a healthy glow.  This was my least favourite product out of the trio and I skipped using it a few times.  I don't really like that the toner is in a spray bottle.  I'd prefer to just be able to tip the bottle over onto a cotton pad to get the toner out as I do with ever other toner I've owned.  It was time consuming to do like 20 sprays to moisten my cotton pad and often times it would over spray onto my hands wasting product.  I wasn't a big fan of the scent of this product, I don't know how to explain it but I don't enjoy it.  I wouldn't purchase this product on my own although I do think it gets the job done.  The Sea Mineral Tonic retails for $9.95 for a 5 ounce bottle, I only have a smaller 2 ounce bottle.
Gabriel Organics Seaweed Nourishing Moisturizer
This moisturizer contains Shea butter and vitamin E to help protect the skin from premature signs of aging.  I enjoyed this moisturizer, it's very light and soaks right into my skin.  You don't need much and it took me a few goes to get used to squeezing out so little of the product.  It's a perfect moisturizer to wear during the day under makeup and is moisturizing enough for my skin to also apply at night before bed.  I've had several moisturizers break me out in the past and this one didn't, so I was very happy about that.  It leaves my skin feeling smooth and hydrated without making me oily throughout the day.  It actually kind of leaves this luminous glow to my face after it soaks in and dries.  I didn't notice any change (better or worse) in my fine lines while using this moisturizer, I thought I'd mention that since it says it protects skin from mature signs of aging.  I would recommended this to anyone with combination skin and would consider purchasing this again in the future after I use up all my moisturizers.  The bottle retails for $26.70 on their website and although the bottle looks a lot smaller than the cleanser, it probably lasts more than twice as long. 
Overall I have been enjoying Gabriel Organics Skin Care Line and if you are looking for a natural skin care line then I suggest you try it out.  I would most definitely  recommend the Seaweed Nourishing Moisturizer again and possibly the White Seaweed Calming Cleanser.  
I've also been using their ZuZu Luxe Color Correcting Primer and have been enjoying it so far.  I'd like to try their Marine Lip Treatment as my lips are always dry and maybe their eye cream cause I'm still on the hunt for an affordable one that I enjoy. 
I was just reading their website and noticed they have a "Recycle Program" similiar to "Back to Mac".  If you send back 5 containers of Grabriel Cosemtics they will send you back 1 lipstick of your choice.  That's awesome, so make sure to save your containers to send back to them.  
Have you ever tried Gabriel Cosmetics? What do you think of their products?  Do you have any favourites that I should try?
Also, I'd love to hear some recommendations on natural skin care lines and cosmetics as like I mentioned in my post, I'd like to start making the switch to more natural products.