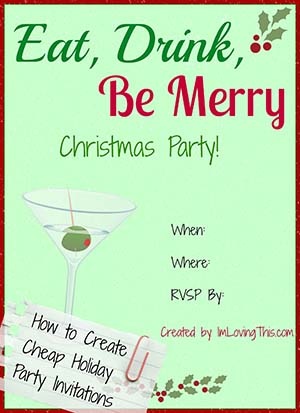 The holidays are a stressful time for most people and I know that I am always looking for ways to cut corners and save money.  I'm pretty sure I'm not the only one that does this.  It is pretty easy to save money when making invitations to your holiday party, just follow my easy tips below.
Make Your Own Invitations
It sounds overwhelming if you aren't a crafty person, I'm not a very creative person.  But if you can write and glue then you can make your own holiday part invitations.
You can easily just take a picture from last year's party and glue it to a piece of card paper that is a little larger than the photo to create a border.  Then just turn it over and write all the information about the party.
Another way is to head over to your local craft store and go straight to the scarp booking aisle.  Don't get too crazy as there are tons of items in that section, just grab some card stock, some Christmas stickers and some items to spruce up your cards such as ribbons.
You could just hop on your computer and make something online. Simple right?  Then you can print it at home, or if you don't like using your own ink or don't have a high-quailty printer than just take it to your local print shop and get them to print it for around $.20 per copy.  
Use Evites
Head on over to evite.com and create a simple evite.  All you have to do is put in your information and add a picture if you would like.  Then you just need all your friends email addresses and you can send the evites for free, yes FREE.
Use Email
Almost the same as using the evites, but you don't have a easy way to keep track of the RSVPs when using email.  Emails are free so start sending, just make sure your email provider doesn't flag you as a spammer.  If you have a huge guest list you might want to check and see how many emails you can send out about the same thing before your email provider flags it.  You may want to write your invite a few ways and send it over a period of days.
Use Facebook's Events
If you a friends will your entire guest list then why not set up a Facebook Event?  Just make sure to set it to private by selecting 'invite only', to prevent the entire world from showing up at your door. 
Watch for Promo Codes
If you are really intimidated by making your own invitations and would rather outsource that tasks then find yourself a coupon code.  There are typically a ton of coupon codes available around the holidays.  Shop around and make sure that you are getting the best price, some companies might even offer price matching.
When it comes down to saving money on your holiday party invitations is really easy to do, especially if you make them yourself.  If you save money in the invitation area then you can spend that money on other areas of your party.  Don't go too all out because once that party is over your invitation will likely be thrown in the trash.