Holy Ipsy! I'm super impressed with this month's Glam Bag. Wow! There's no way Birchbox can beat this month's items.
I received 5 products in my Ipsy Glam Bag this month, and three… yes, three of them are full size!
Let's get into what I received and my thoughts on all the items.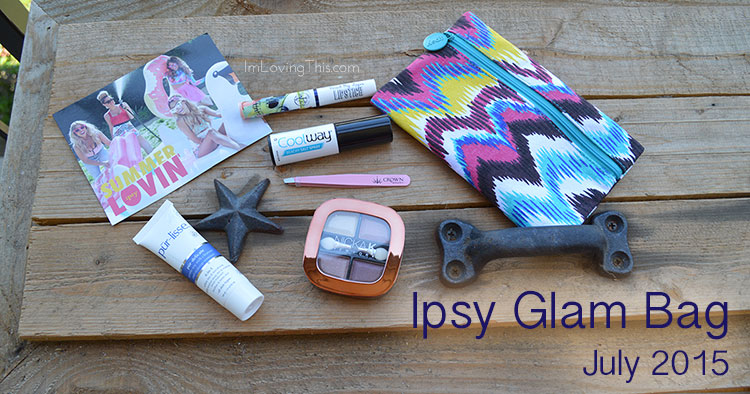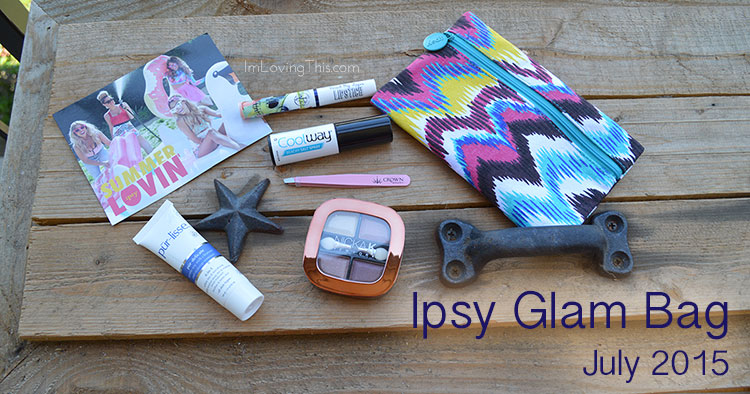 Nicka K New York HQ Quad Eyeshadow in NY075 Sierra

This is an awesome sample, an entire eyeshadow quad. The colours are just gorgeous and will be great for an evening look. The colours are shimmery but look elegant. They go on smooth and are very pigmented. Very impressed with the Nicka K New York HQ Quad Eyeshadow. I thought that this was a high-end product but I just looked it up and it retails for only $4.99. What a deal! I'd be interested in buying one of their quads if they had a neutral, matte one.
Teeez Cosmetics Read My Lips Lipstick
I've never heard of Teeez Cosmetics and was also excited about this sample. I received the colour Killing Me Softly which is a coral-pink colour. I believe this is a full-sized lipstick and it retails for $22. I liked the colour in the stick but it didn't really suit me and made my teeth look a little yellow. I also found that it instantly clung to all the dry patches on my lips. I wouldn't purchase this product myself but it might work perfectly for someone else. It says it is a long-lasting lipstick that combines the power of highly-pigmented coverage and a unique satin, matte finish. It contains coconut oil extract to nourish and hydrate the lips, with color that lasts for up to 8 hours.
Crown Brush Professional Tweezers
I've been using the same pair of tweezers since I started plucking my eyebrows, a pair of Tweezermans. The Crown Brush Professional Tweezers remind me of my Tweezerman ones but aren't as good. The metal tweezer part isn't completely smooth and isn't as thin and pointy as my current pair. If you are looking for a pair of tweezers go with the Tweezerman ones. I don't know how much these retail for as I couldn't find the exact pair on the their website but I think they are around $17. I'll probably end up giving these away to someone as I have no use for them.
pūr~lisse pūr~delicate gentle soymilk cleanser & makeup remover
You all know that I like receiving skincare products. I will be saving this for my travels next weekend. It's a 4-in-1 sulfate free and non-drying milk cleanser. It is a generous sized sample and I will be able to get a few uses out of this to see if I like it. I will let you know what I think of it when I try it. The full size retails for $36, I don't really see myself buying it in the future because of the price point.
Coolway Beachy Salt Spray
I've been using sea salt sprays quite often this summer and was excited about this sample. It doesn't have a scent, which I like. Most sea salt sprays I've used smell like coconut and I hate coconut. The full size of this sample retails for $12.95 and I would purchase it for that price if I like it enough. I will keep you updated on if I like it or not. As of now I like it, but haven't tested it fully to know. 🙂 
Even though I didn't like some of the products in my Ipsy Glam Bag, I am overly impressed. I feel like I received a lot of products for only $10. Can't expect every product to work for you when you sign up to these types of services. I will continue my membership with Ipsy and hope they continue to impress me. 🙂
What did you receive in your Ipsy?