I received my Ipsy bag this month before I even noticed that it shipped. I've had it for a few days but haven't had time to post about it cause I've been so busy with work. This month's bag is full of some great products once again!
My Birchbox is in limbo this month so I might not post about it. My credit card was compromised so the payment didn't go through on the normal date. I have yet to receive any shipping confirmation for it although they took my payment on the 4th…
Anyways, let's get into what I received in my Ipsy and what I think of all the products. 🙂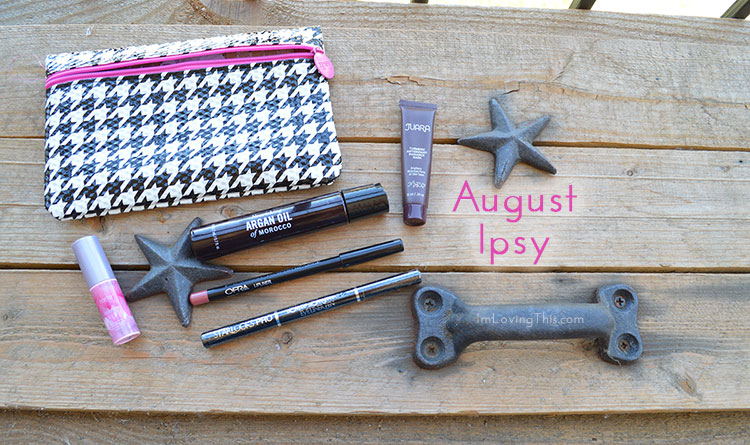 Marc Anthony Nourishing Argan Oil of Morocco Oil Treatment – 0.7 fl. oz.
I use oil on my hair daily and typically reach for my Orofluido Beauty Elixir. This oil treatment says it's lightweight and can be used daily for strong, glossy, frizz-free hair. It's created with Mediterranean Olive Oil and Moroccan Argan Oil and penetrates deeply to fortify, protect and condition hair. It also contains Vitamin E and Shea Butter to hydrate and soften.
The Marc Anthony Nourishing Argan Oil of Morocco Oil Treatment smells very good and feels nice on my hair. If you are looking for a drugstore hair oil then you might want to try this one. Personally, I'm going to continue using the Orofluido Beauty Elixir. I will gladly use this sample up though. The full size retails for about $8.00.
tarte deluxe LipSurgence™ skintuitive lip gloss in energy – 0.05 ounces
I was really excited to receive this sample as tarte is a high end brand and I've never tried their lip glosses before. This lipgloss responds to your skin's natural pH and energy, giving you a personalized tint that is truly your own unique shade. It is infused with rich antioxidants to help smooth the apperance of fine lines and wrinkles while delivering intense hydration.
The tarte lip gloss turns a nice sheer light pink on my lips, I think it looks gorgeous. I really like this lip gloss, it hydrates and doesn't make my lips peel. Most lip glosses make my lips peel so am happy to say this one doesn't. This lip gloss retails for $19.00 and I would purchase it myself with my own money in the future.
Starlooks Luxe Longwear Eye Liner Pen
This is a full sized product, which is always awesome! This is an eye liner pen obviously, in the colour black. This is a very nice liner pen, it's so fine which makes it easy to use. This would be a great pen for a beginner. It applies smooth on my hand and dries quickly and doesn't smudge. I haven't tried it on my eyes and haven't been wearing black liner lately. But will let you know when I do try it because it seems like a good product. The pen retails for $19.00 on Starlooks website.
OFRA Comsetics Lip Liner in Wine
Is it weird that I don't own a single lip liner? I've been meaning to pick some up but rarely wear lip products. This liner will go perfect with my new lipstick that I purchased the other day, which I have been loving. In case you are wondering it's the Maybelline New York ColorSensational Lipcolor in Maple Kiss. I literally just lined my lips using my crappy iPhone camera to see how this OFRA liner feels. It goes on smoothly and looks like it will stay put, it's a matte colour so might be drying. I will keep you updated on how I feel about this liner. I received a full size product and it retails for #13.

JUARA Skincare Turmeric Antioxidant Radiance Facial Mask – 10 ml.
Skin care items are my favourite things to receive in subscription boxes. This face mask says it detoxifies, brightens and strengthens stressed, tired, dull-looking skin in one single application. It is free of Parabens, Phthalates, Sulfates, Mineral Oil, Gluten and Artificial Colorants.
You can apply it 1-3 times a week or whenever your skin needs a boost. You can also use it as an overnight treatment.
I haven't used it yet but will probably give it a go tonight. It looks like a nice mask and I can probably get two maybe three applications out of this sample. This full size retails for $35, which is a little over my budget for a face mask. We will see if I feel the same way after trying it.
Summary
I'm very pleased with my Ipsy Glam Bag this month. If I had to pick a favourite product in this bag I think I would choose the tarte lip gloss. But the face mask might win as I haven't tried it yet. I haven't heard of the last three brands I mentioned and like discovering new brands. The whole reason I'm subscribed to these subscription services is because I enjoy finding new products and this way I don't have to buy full-sized products to see if I like them. I'm going to continue being a Ipsy subscriber as I've been very happy with my bags since I've resubscribed.
What's your favourite thing in your Ipsy bag this month?
See what I received previous months here.