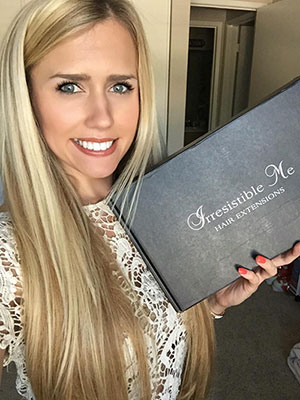 I have really long hair, it pretty much goes all the way down to my butt. So I don't really need hair extensions for length. But I always feel that my hair lacks volume because it's so long and heavy. So occasionally I like to wear hair extensions for more volume.
I was contacted by Irresistible Me back in August and asked if I wanted to try out their hair extensions. I wasn't paid in any way for this review and was just given the extensions to try. My hair extensions were shipped about a week after I was contacted and I received them within a few days.
When I was originally contacted they mentioned that they were based in the fashion district in New York, so I was surprised when my package came from China. The shipping was extremely quick for coming from China.
The Irresistible Me hair extensions come in a clever package which is made for easy returns. It's a foil zip-lock type bag with two sides. One side has all the extensions and the other side has just one extension. That way you can open the smaller side with the individual hair extension and see if it matches your hair. If it doesn't you can send it back. Once you open the larger size you can not send it back. The company offers free returns and exchanges so make sure you open the correct side if you think that you might send them back.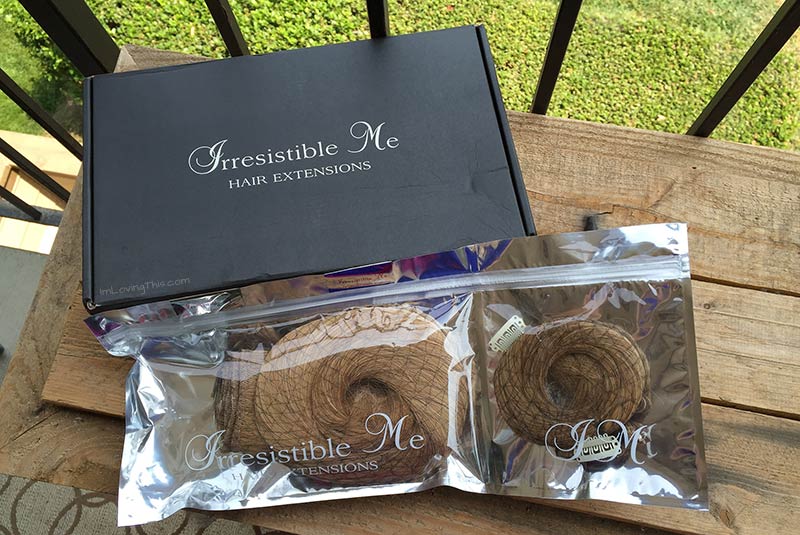 Which hair extensions did I pick?
After much debate I decided on the Royal Remy "Golden Blonde #14" colour. I wanted the longest ones available so that they would blend in with my hair so I also asked to receive the 24 inch ones which are 200 grams of hair. The exact pair that I received retail for a whopping $319.
For reference mine are: Royal Remy Golden Blonde #14 – 24 inch – 200 grams
They come with
1 pc that is 7.5″ and has 4 clips
2 pcs that are 6″ and have 3 clips
5 pcs that are 4″ and have 2 clips
2 pcs that are 1.2″ and have 1 clip
When I first opened the Irresistible Me extensions I was a little worried that they were too dark for my current colour. But they actually ended up blending in quite nicely. If you ever order the wrong colour you can return them or take them to your hair stylist and they can colour them for you so they match your hair.
They have quite a few different colours to pick from, and I feel like almost anyone would be able to find a match, unless they had a unique hair colour.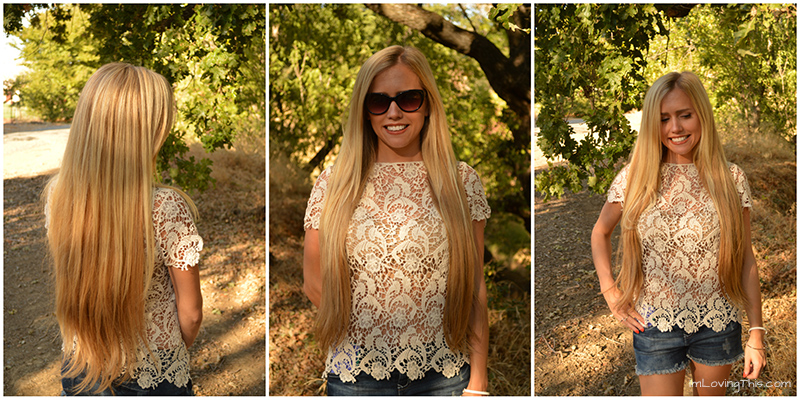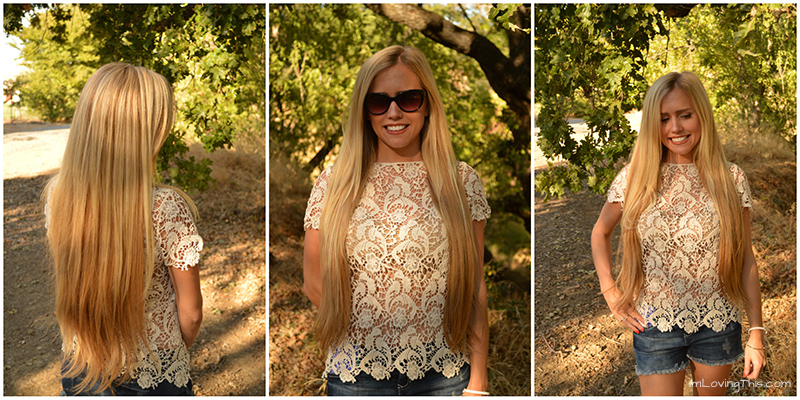 My thoughts on the Irresistible Me hair extensions…
I remember it being a little difficult to get the Irresistible Me extensions out of the hair net they put them in and also the rubber elastic, so be careful there. Once I got them out I was surprised by how much hair there was. I didn't realize how much 200 grams of hair would be. I own another pair of extensions which probably consists of half of the amount of hair.
I noticed right away that some of the strands were black, which kind of bothered me and made me feel weird. The whole idea of wearing another person's hair kind of freaks me out even though I've owned extensions before. So the fact that some pieces weren't blonde reminded me that I would be wearing another person's hair. Yes that might be weird, but it's just how I feel. It would be nice if all the pieces were blonde. The other pair of extensions that I own don't contain any black strands. No one would ever notice the black stands but I can see them when I look down at my hair while wearing them.
The Golden Blonde worked very well with my hair colour and blended in seamlessly. They actually ended up being the same length of my hair too. The ends were a little curled naturally (probably from how they were packaged) and it helped them blend in even more. I haven't tried curling the extensions but I imagine that they would curl nicely because they end up curled when I store them wrapped up.
The 200 grams is a lot of hair, and if I was to ever order another pair of extensions I'd probably order less. I put all the extensions in my hair for the sake of pictures and an honest review. But there is way too much hair for my personal preference. Didn't think I would ever say that. It's not a negative point at all, I just wanted to let you know that you probably don't need the 200 grams. Although if you want anything longer than 18 inches you have to buy 200 grams. It would be nice if they offered less hair for the longer extensions. A lot of the time when wearing the hair I'd leave out the largest weft and it felt more natural.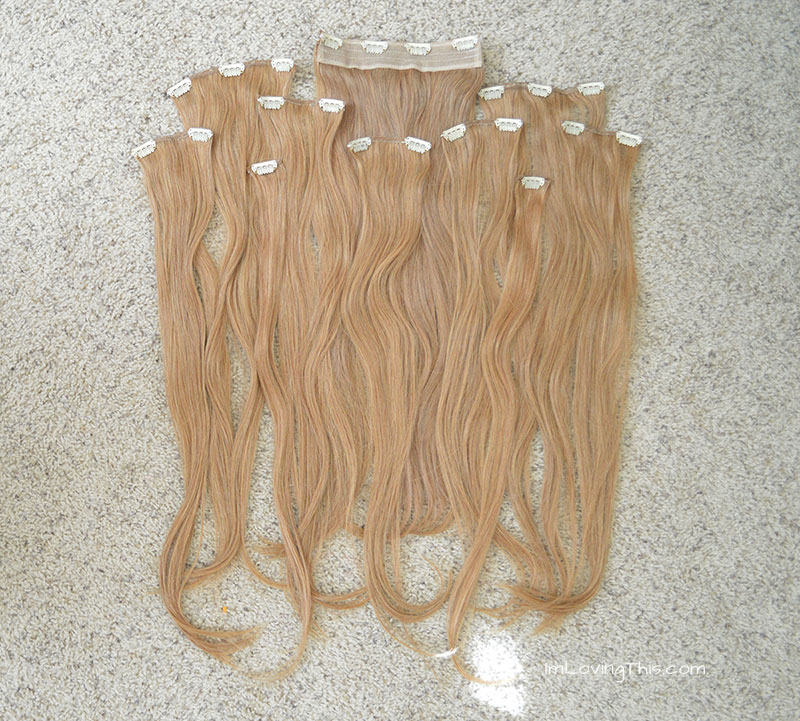 The clips are decent, a few of them were really hard for me to snap shut. They give you a few spares so I might switch the two out that I'm having difficulty with.
I haven't noticed much shedding with the Irresistible Me hair extensions but haven't owned them for that long. I shed like a dog myself so it's hard for me to notice if the extensions are shedding at all.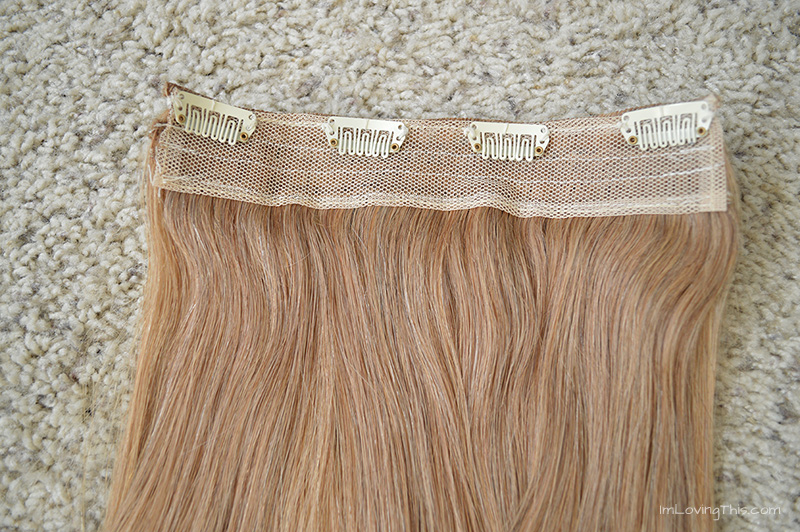 Washing Irresistible Me hair extensions…
I wash my hair extensions just like I wash my hair. Shampoo, conditioner, let the conditoner sit for a few minutes and rinse. Then I lay them on a towel to air dry. I recommend letting them airdry to pro-long their life. But you can blow dry them if you wish.
I washed half of them to see if there was a difference after washing them. They feel a little less soft (barely noticeable). I prefer their post-wash state. They look more like my natural hair and have more texture. They dry straight with the blow drier and practically straight air dried.
I saw a few pieces shed after washing them but that's not a big deal and is bound to happen with any hair extensions.
I don't wash my extensions every time I wear them. Typically I wash them every fifth time unless I wear them out somewhere that I feel I need to wash them after.
Overall thoughts…
I do really like the Irresistible Me hair extensions but can't see myself spending $319 on a pair of extensions from any company. Maybe I'd feel differently if I had shorter hair. They are nice extensions and I will be wearing these extensions over my other set.
If you are in the market for a pair of hair extensions I recommend taking a look at Irresistible Me.
I will keep you updated down the road if I notice any changes over time.
Oh and if you want to see my hair on a normal day, you can see pictures on my Instagram or on any of my other social networks. 🙂 
Do you wear hair extensions? Why do you wear them and also, what's your favourite brand?