If you didn't know already, I have an obsession with hair products. I have loads of them and can't seem to stop myself from buying more. I've been doing better at resisting, but it's difficult. 
I was contacted and asked if I wanted to try the Lisap Easy Build Hair Reconstruction System. So as you can image, I said I'd love to. I received the system over a month ago and have been using it regularly since. I've come to the end of the bottles so it's time for a review. 
See what my hair currently looks like on my Instagram.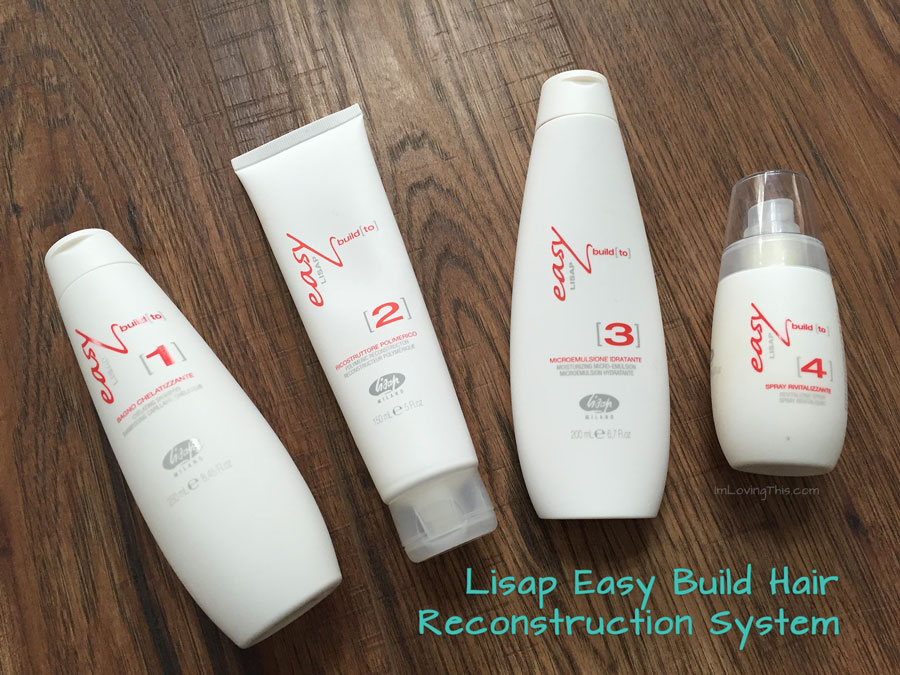 About Lisap Easy Build Hair Reconstruction System
The Lisap Easy Build Hair Reconstruction System is a 4-step hair reconstruction system for all hair types. It is a conditioning treatment created for seriously out-of-condition and damaged hair. It nourishes the hair structure from cortex to cuticle, restores body, elasticity and strength. It also provides an anti-aging effect to give hair softness and shine. 
 "The Lisap Easy Build collection was developed as the original Botox for hair," said Robert Baggio, vice-president Lisap Canada. Lisap products don't contain contaminants that can be harmful to you, or the environment. The Easy Build Collection retails for approximately $67.00.
The system includes…
Lisap Easy Build 1 Chelating Shampoo. Easy Build 1 is formulated to create synergy between the active ingredients, amino acids, keratin and vitamins to treat the most damaged parts of the hair, leaving it glossy and perfectly manageable. 
Lisap Easy Build 2 Polymeric Reconstructor.
The second step rebuilds the keratin structures internally from deep within the hair shaft. Its formula contains creatine, wheat amino acids and soya proteins that leave the hair looking healthier, glossier and stronger.  
Lisap Easy Build 3 Moisturizing Microemulsion. The red and black marine algae extract formula reinforce and reconstruct the hair fibre internally and externally.  The third step restores vitality and elasticity, giving hair increased body without adding weight.  
Lisap Easy Build 4 Revitalizing Spray. The final step completes the reconstructive treatment by effectively rebuilding the external layers of the hair, preventing split ends and leaving hair feeling like silk.  Additionally, the hydrolyzed proteins, creatine and heat resistant substances moisturize the hair, protecting it from heat and making handling easier and styling longer lasting. 
About the Company, Lisap
Lisap is a family owned business and creates all of its products using the finest and gentlest ingredients in formulations designed to restore the hair's natural balance and beauty. All Lisap products are dermatologically tested and manufactured in Milan, Italy. Lisap and has been offering quality hair care products for almost 60 years and sells to salons in more than 50 countries. 
How to Use the Lisap Easy Build Hair Reconstruction System
I wasn't too sure how to use the system correctly when I received it. Some of the bottles were in Italian so I didn't understand the directions. I contacted the company to get the directions.  
1 – Apply Easy Build (1) and massage gently.  Leave for a few minutes, rinse thoroughly with water and repeat application. Rinse and pat dry using a towel to remove excess water. 
2 – Apply Easy Build (2) with a brush, working section by section, massage in the product, wrap with the special towel turban and place under a source of heat (like a lamp) for 10 minutes, then leave to cool for a further 2 minutes. 
3 – Rinse thoroughly with water and apply Easy Build (3), leave on for 2 minutes, and rinse. 
4 – Apply Easy Build (4) on the hair, section by section, before styling: do not rinse.
My Thoughts on the Lisap Easy Build Hair Reconstruction System
First off, we all seem to be busy these days and are always looking for ways to speed up our routines, so using a 4-step system might not be ideal for everyone. I found myself not following the directions quite often to save time. Also, step 2 says to wrap your hair in the "special towel turban" which I never received.
I would wash my hair with the shampoo, rinse. Then would apply the Easy Build #2 and leave it on while I shaved and washed my body. Then I would rinse that off and apply Easy Build #3, wash my face and stand there for a minute or so and then rinse again.
I would apply the final product, Easy Build #4 on my damp towel-dried hair before blowdrying. I had to be careful with the final step because sometimes I'd over-spray and my hair would be sticky or a little greasy looking. 
The Lisap Easy Build Hair Reconstruction System has a light scent, I can't really describe it. I think it smells like chocolate, but I don't know if that is accurate…
It's hard to tell but I do think that my hair looks more voluminous when using the Lisap Easy Build Hair Reconstruction System. My hair feels soft and smooth, but really no more than my Redken All Soft, which I was using before this. 
I did notice that it makes my hair more tangly. Especially when it is wet. I wonder if that has something to do with the "botox" effect. It does make my hair look more voluminous and textured. So maybe that is why it prone to tangling.
I would recommend this hair line for someone that wants more volume in their hair. I think it performs better than any other "volume" hair lines that I've tried. 
I personally don't think I would purchase this line just due to the price point. I find it a little expensive at $67, although you get 4 bottles of product, which would work out to $16.47 a bottle. Plus I don't enjoy having to do the 3 steps in the shower. I rather just do my shampoo and conditioner and then a deep treatment once a week. 
If you want to see what my hair looks like you can see pictures on my Instagram. 
What's your favourite shampoo/conditioner to use?