The products in the Organix Anti-Breakage Keratin Oil line are some of the best smelling products that I've tried.  I can't even describe what they smell like, I'm horrible at describing scents.  But next time you are at the drugstore, smell them.  I would repurchase this duo over and over again just for the smell.
This shampoo and conditioner contains keratin proteins that help increase elasticity to resit breakage. It also contains argan oil to help smooth and condition hair.  Organix does not test on animals and their bottles are eco-friendly and pink.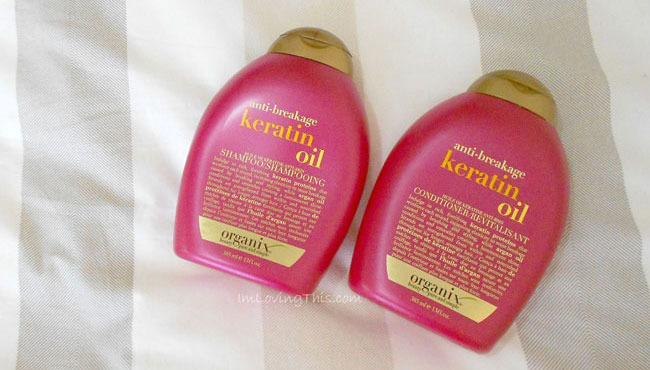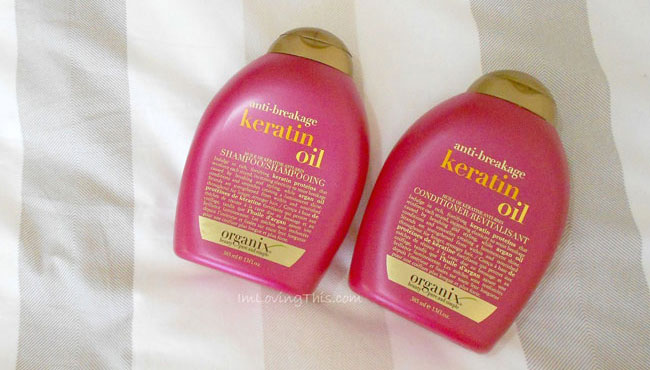 The Organix Anti-Breakage Keratin Oil Shampoo and Conditioner leaves my hair smelling fabulous all day long, even into the next day.  It also makes my hair smooth and adds shine to my blonde hair.  The duo lasts quite some time as you don't need much.  
I recommend picking up this shampoo and conditioner next time you run out.  Or you can just add it to the 10 that are already in your shower like myself.  I also have the Organix Instant Repair Weightless Healing Oil and love it.  If you really want nice smelling hair then make sure to pick that one up too.  I noticed while writing this review that they also have a recovery treatment in this line.  I will have to pick that up next time I'm at the store.  I'll let you know what I think.
This is a really short review, but I don't have much to say about the products.  It's hard to write a long review on shampoo/conditioner.  I just really wanted to let you know about this duo because I love them!