I have never owned any Pixi products besides a lip tint that I received in a subscription box but have heard good things about their products.  I was at Target the other day and had a coupon for I believe 20% off Pixi and Sonia Kashuk products.  I would have typically purchased my favourite eye makeup remover from Sonia Kashuk but I have a few bottles of backups already.  Pixi products were all on sale so I started scanning through them. Right away the Mesmerizing Mineral Palettes caught my attention, specifically the Copper Peach and Rich Gold.  I looked them up on my phone and decided to just get the Copper Peach palette, although it had mixed reviews.  It ended up being about $6 with my coupon so I figured it would be worth it even if I only liked half of the colours as they retail for $12-$14.
The Pixi Mesmerizing Mineral Palette in Copper Peach is paraben free and is not tested on animals.  This palette contains six mineral eye shadows and a sponge tip duo applicator.  I really like the packaging, it looks cute, it's compact and will be great for travel as it feels pretty sturdy.   
This palette contains peach, bronze and russet shades, which I really enjoy as I really only wear neutral eye looks.  All five of the palettes looked beautiful and there's probably one for everyone.  The six colours don't have names so I will just go through them in order and tell you what I think of them.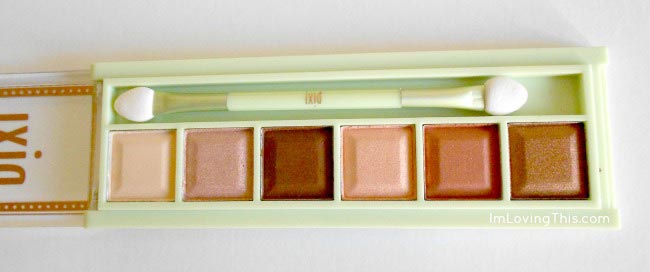 The first shade is a light champagne colour and is probably the least performing shade out of the six.  It's very velvety to the touch but it isn't very pigmented and takes some work to get it to show up.  I had to do about five layers on my arm to get it to show up for the camera.  I'll probably just use it in the inner corners of my eyes to brighten them up.
The second shade is a bronze colour and is one of my favourite colours in the palette.   I tend to gravitate towards these shades.  I've already worn this colour all over my lids and really enjoy it.  It is probably one of the best shades in this palette and is very pigmented.  It feels expensive and luxurious.
The third shade is a matte brown.  It looks really dark in the pan but it actually isn't.  It is a little disappointing as it is very light once applied, but I still think the colour is pretty.  I will still use it in my crease to give my eye looks definition, I don't do very dramatic eye looks so it will work for me.  But if you are looking for a dark, defining colour in this palette you aren't going to find it.
The fourth colour is a like a peachy shimmer, it is beautiful as well.  I really like this colour and will be wearing it often. 
The fifth colour is a copper shimmer colour.  It's very beautiful but I don't think it is as pigmented as the other two shimmer colours that I like.  I do really enjoy this colour and will be reaching for it often as well.  It will be a great colour to wear during the fall and winter and even on summer evenings.
The sixth and final colour is a darker bronze shimmer.  It is actually the darkest colour in the palette as the matte shade doesn't swatch nearly as pigmented as this one.  This colour is absolutely gorgeous and one of my favourite colours in the palette as well.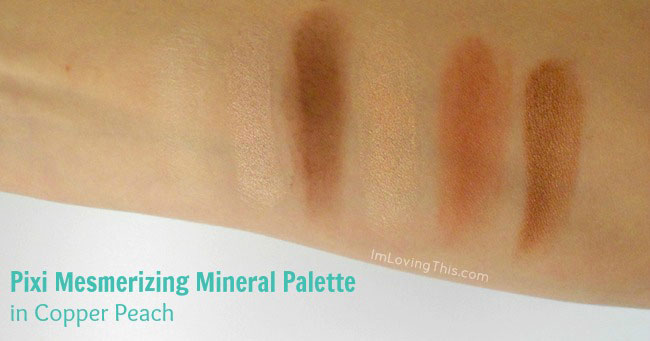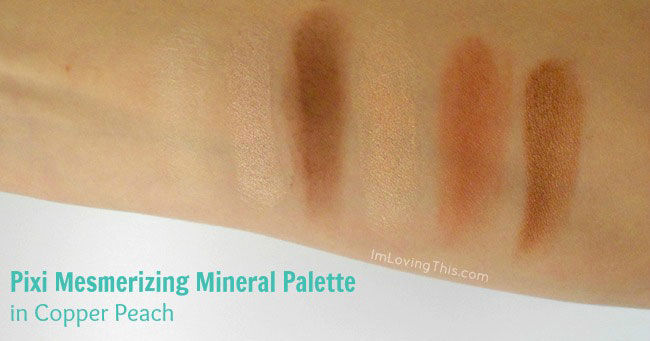 Overall, 4 out of the 6 shades are a hit and two are a miss in the Copper Peach Pixi Mesmerizing Mineral Palette.  Although I do enjoy the matte shade some people might be disappointed with its pigmentation.  The shadows are all velvety, smooth and feel quite luxurious as last throughout the day.  I think that this palette would be great for anyone with blue eyes like myself.  I can't pick a favourite shade in palette because I like too many of them. 🙂
Have you picked up any of the Pixi Mesmerizing Mineral Palettes?  What do you think?  Also, I would love to know of any other drugstore neutral eye palettes that you like so I can pick some more up. 🙂