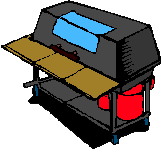 With summer almost upon us, barbeque grills everywhere are being dusted off and cleaned for the new season. If you are ready to try your hand at grilling this year, here are a few tips to get you started off on the right foot.
Grilling properly is something that you learn over time. It is like anything else in life. You get better with practice. To learn how to grill a chicken breast or a steak properly, you will have to cook more than one or two a season.
With that said, I know that you are more ready than ever to get started. You have barbeque on the brain and there's no stopping you. So, here are few quick tips to make this summer's backyard barbecues the best yet.
The first thing to do is to start out with a clean grill. No one wants to put fresh cuts of meat on a grill that is crusted over with pieces of pork or chicken from the last time you used the grill. Besides the fact that it's gross, you don't want that hamburger to taste like a chicken burger. Clean the grill after each use while it is still hot so the char comes off easily.
Use the proper temperature. A gas grill will give you a more even cooking temperature over the entire surface of the grill. If you use a charcoal grill or a smoker, know where the temperature is the hottest and start your meat out in that area. When it is close to being done, move it to the cooler side to finish cooking.
While we are speaking about temperature, let your grill get good and hot before putting anything on it. Some people think that you don't have to preheat a grill, but meat cooks better when it has reached the correct grilling temperature. You wouldn't put your roast in a cold oven would you? The same goes for the grill. If you want, use a thermometer to gauge the temperature before grilling your meats.
Have all of your utensils and marinades ready and waiting beside the grill. The one thing to remember when grilling is that you have to man the grill for the entire time you are cooking. It is not like an oven that you can walk away from and come back in fifteen minutes. A grill that is working at its optimum temperature will cook the food faster than you think. Closing the lid also increases the heat and decreases cooking time.
So, prepare your area ahead of time. Don't forget to bring along your favorite drink and maybe even a snack to nibble on since you will be the happy gourmet griller for the day. Learning to grill can be a lonely job but one whose product will be greatly appreciated by everyone when it comes time to eat. Remember, the more you grill the better you'll get at it, so cook out as much as your heart desires this summer. Watch how your crowd grows once the word starts spreading that you are the king (or queen) of the neighborhood grill.
Enjoy grilling!