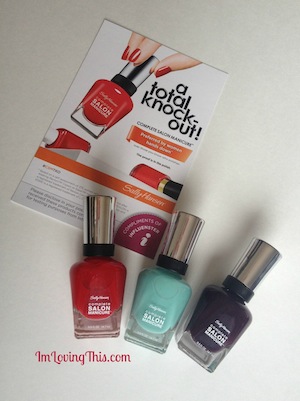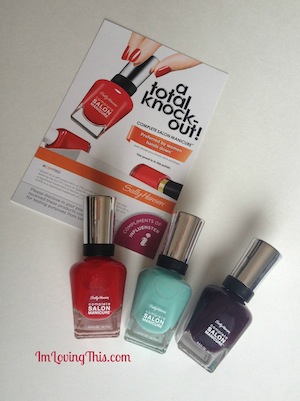 I was lucky enough to receive 3 bottles of Sally Hansen's Complete Salon Manicure from an Influenster VoxBox.  I've received a few VoxBoxes but was probably the most excited about this one as you all know I have a serious addiction to nail polish.
Let me tell you a bit about the Sally Hansen Complete Salon Manicure Line.  Sally Hansen claims that this polish will give you a perfect salon-style manicure and that it has 7 benefits all in one bottle.  The benefits are:
Base Coat
Strengthener
Growth Treatment
Color
Top Coat
Chip Resistant
Gel Shine Finish
There are 50 shades currently available so there should be one to suit everyone out there.  They say that the polish will last 10 days and promise streak-free application.
I received the following colours in my VoxBox:
#470 – Red My Lips
#510 – Pat on the Black
#540 – Jaded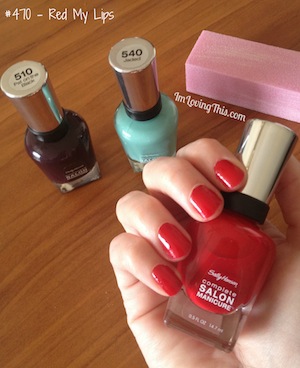 My first impression of the bottles were that they were heavy duty and professional looking.  When I opened the bottle I was immediately intrigued by the brush as it was fairly big.  I thought that it would make application a pain, but I was wrong.  The Sally Hansen Complete Salon Manicure has the best application brush I have used to date!  It makes application a breeze for me.  Typically I am awful at painting my nails, like really bad.  With this brush even I am able to get a perfect paint job with nearly any effort.  I was in awe.
The first time I painted with the polish I decided to test it out for what it claims.  I didn't use a base coat or a top coat and just applied a layer of polish onto my bare nails.  It glided on very smoothly and appeared opaque to me after two coats, and yes I was wearing my glasses.  There wasn't a single streak, just like the product claims.  I was very happy with the way the nail polish looked.
Now, just so you know, I can't go a day without my manicure chipping.  I'm ecstatic if I go to bed with my nails still perfect and chip free.  The Sally Hansen polish was just like every other polish.  It chipped on me the same day.  But don't get me wrong, every polish chips off on me, OPI, Butter London, every brand.  I think I just have crappy nails or something, I don't really see why this always happens to me.  Anyways, I think for a normal person, this polish will last just fine.
I took the nail polish off after 2 days and noticed that my nails were stained, this was using #470, Red My Lips.  I didn't use a base coat so I knew that was the reason for this.  I went onto Twitter and asked if anyone else had this problem and they said no.  I then knew that it was just my porous nails.  It is mandatory that when I paint my nails with dark colours that I use a base coat otherwise I get staining.  I just have crappy nails, so I wouldn't worry about staining for you unless you have nails like mine.
I also tried painting my nails with a base coat first, then two coats of the polish and then my favorite top coat Seche Vite.  That made the Sally Hansen Complete Salon Manicure last longer and look even more shiny.
I can't really tell you if it has improved my nail quality, like I said I have awful nails.  They grow fast but they break instantly, chip and flake.  I would love if the polish would improve my nails, but since I have to wear a base coat, I don't see that happening.
I highly recommend picking up the Sally Hansen Complete Salon Manicure nail polish next time you are at the drug store.  It is affordable, looks great, will last long on most nails and they have a huge colour selection.  I will definitely be picking up some more colours and think it is the best nail polish that you can find at the drug store.  Much better than Essie I might add.
Have you tried the Sally Hansen Complete Salon Manicure Polish?  What is your favorite colour?  Do you like it?