SBT Seabuckthorn sent me a few products to try out and possibly review.  The two I'm going to review today are their Day Cream and Night Cream which I've been using regularly for probably about 6 weeks.
SBT Seabucktorn is a local company to me, they are based in Peachland, British Columbia.  I always like supporting local companies when I can.  Seabucktorn International produces their products from the berry, seed and leaf of the Seabuckthorn plant.  
I wasn't very familiar with Seabuckthorn until the company contacted me, I then decided to do some research.  Seabuckthorn has some amazing benefits such as
Being high in omega fatty acids. including 3, 6, 9 and the rare 7.
Helps fight disease such as diabetes and heart disease. 
Helps moisturize, restore and calm skin. 
The list goes on and on, research it a bit yourself and see.
Well now that you know a bit about Seabuckthorn, let's get into the products.
Ear jar contains 50 ml of product.  I do like the packaging, although they could use some better labels as they are hard to read.  Both of the products look the exact same inside the jars, the moisturizers are both yellow.  The Day Cream retails for $29.95 on their website and the Night Cream goes for $34.95.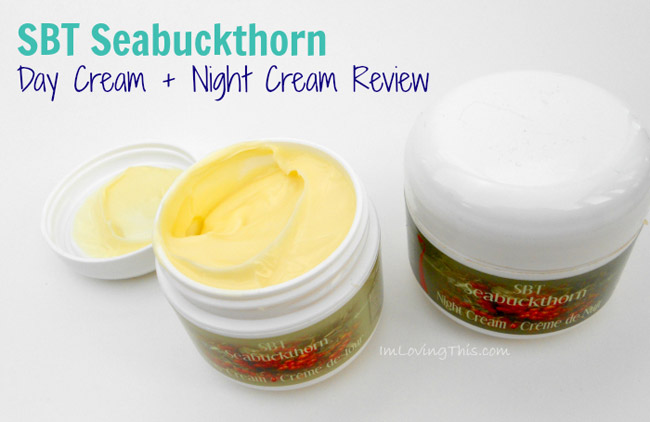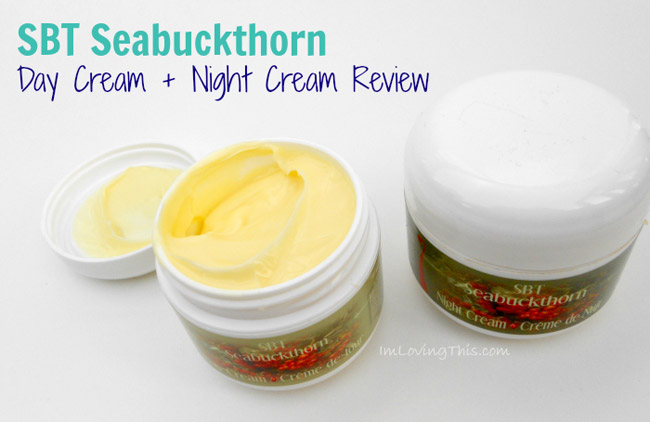 Day Cream
The SBT Seabuckthorn Day Cream contains their special Seed Oil and is enriched with mango butter, shea butter and mango butter to prepare your skin for the day.  It also contains Hyaluronic Acid which has excellent water retaining properties, it gives fullness to the face and eases wrinkles, fine lines and smoothes the surface with a slight plumping action.
For containing so many rich ingredients, the day cream is very light.  It sinks right into my skin and leaves it feeling smooth and ready for the day.  I notice every time that I apply the cream that my skin looks more refreshed and has a little bit of a glow to it.  The cream doesn't leave any sort of film or residue on my face, nor does it cause me to get oily throughout the day.
Night Cream
The SBT Seabuckthorn Night Cream contains Omega 3, 6, 7 and 9 Fatty Acids from the Seabuckthorn Seed and Fruit Oils as well as fine botanicals to help reduce fine lines. 
The night cream has a thicker consistency than the day cream.  You can tell right away that it is a richer cream and is meant for night time.  Even though it is rich, it sinks right into my skin and leaves it feeling well nourished.  I don't wake up with an oily face in the morning unlike some other thick creams I've tried in the past.
If you read my blog often then you will know that my skin is temperamental and several moisturizers have caused my face to breakout.  These products didn't break me out at all. So yay! They are very rich, but full of great, all-natural ingredients so that is probably why my skin soaks it all up nicely. 
I haven't noticed any amazing improvements in my skin since using the products, but I'm pretty happy with my skin to begin with.  I am also a firm believer that you need to use something for a few months to see results.  I still have more than half of my jars left so will continue to use them. These products are going to last awhile, it takes me forever to use up moisturizers for some reason. 
Both of the creams have the exact same scent in my opinion.  They smell like olive oil to me, which isn't the best smell.  As soon as I apply it to my skin I don't smell it anymore, but the initial smell kind of bothers me.  I do like the moisturizing qualities of the creams so I get over it every time I use it.  Plus when you are using all-natural products you can't always expect them to smell fabulous.  I personally prefer unscented products. 
Overall, I do enjoy both of the moisturizers and will be finishing up my containers.  The creams are definitely keeping my skin hydrated all day and night this winter.  I thought I should also let you know that, SBT Seabuckthorn products are all-natural so if you are someone that looks for all-natural products then I suggest popping over to their website to see what they have to offer.  
They also sent me their Lip Balm, Sniffle Stick and some tea samples.  I have been using the lip balm and like it. Thankfully I haven't had to use the sniffle stick yet. 🙂
Have you ever used products that contain Seabuckthorn?