I love taking pictures with my digital camera and choosing all my favorites and then getting them printed out.  I've tried many places that offer printing services and my favorite one is Snapfish.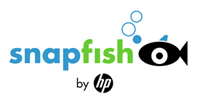 Snapfish is an online photo center, you upload your pictures and choose what you want printed and they mail them to your doorstep.  They offer many other services like photo books, mugs, calendars, t-shirts, anything you can really think of.  Their prices are the best I've found.  The quality of their photos are great.  Definitely beats all the places that I've taken my pictures to get printed.
Snapfish offers unlimited uploads and storage on their website.  The first time you sign up you get 20 free prints.  They are always offering sales, like 20% off your order or free shipping!
I recommend Snapfish, and I actually just placed an order today at 20% off to get all my pictures from my summer vacation printed. 🙂
Have you tried Snapfish?  Let me know what you think in the comments below.
Also, don't forget to go through Ebates when purchasing an order through Snapfish and you will get your cash back! 🙂