Subscription box services seem to be the thing right now. At moment I'm subscribed to two boxes, Ipsy and Birchbox.
Target's Beauty Box isn't technically a subscription box, but it reminds me of one. It comes in a box like Birchbox, and it isn't a subscription service. You have to actually purchase it when they release a new box. You know exactly what you are going to get before you purchase it so you won't be surprised by anything you receive. I like that cause I can decide if it's worth spending $7 before hand.
Target typically releases their Beauty Box at the beginning of the month or for a new season. I was lucky and got the one for August and it looks like there's going to be a box for September as well. I wanted to tell you now about the Target Beauty Box so you can get your hands on the next one.
So far I've only purchased one Beauty Box because they have a limited quantity available and it's hard to say when they will release them. I received an email from Target announcing the August box at the beginning of the month and I purchased it right away before it sold out. I suggest signing up to Target's newsletter so you will be notified.
Target's Beauty Box is sold for $7 and that includes shipping. It's not available in stores so you have to order it on their website.
In August's Target Beauty Box I received 6 items valued at $35. It came with two full sized products which is pretty amazing!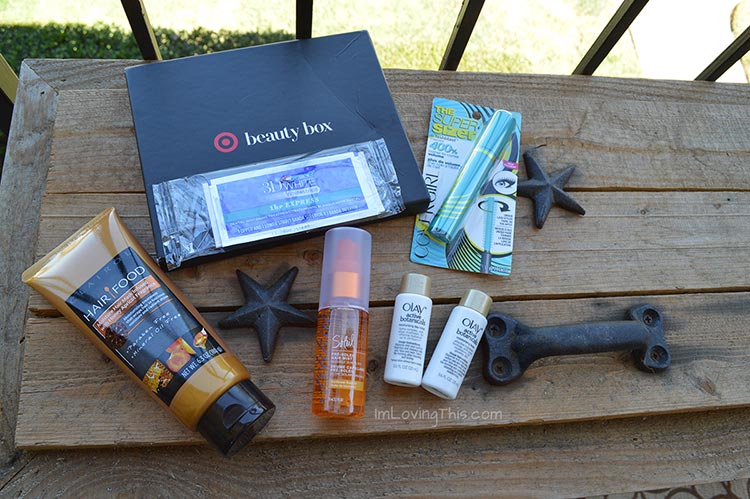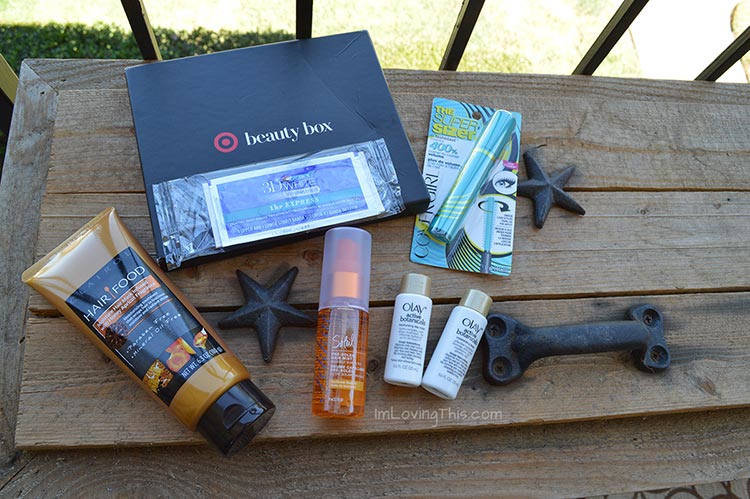 I'll quickly tell you what I received, but not going to go into too much depth.
Clairol Hair Food Moisturizing Hair Mask– This was a full-sized product and basically why I bought the box. I've been through I believe two of these bottles already, maybe even three. I really like this product and it retails for $11.99 at Target.
I want to mention  I picked up their shampoo and conditioner a month or so ago cause I like the hair mask. I wouldn't really recommend it, it's just average.
CoverGirl Super Sizer by Lashblast Mascara – This is also full-sized and is a new mascara that I have never tried. I still haven't tried it since receiving it because I have too many mascaras open right now. I'm not really a fan of CoverGirl mascara so don't have high hopes for it but hopefully I like it. Target sells this mascara for $5.99
Fekkai Pré-Soleil Hair Radiance and Protection Mist – This is a really nice sized sample at 50 ml, it comes in a really nice bottle that I know I will reuse. I've never used this product before (and still haven't tried it) but am excited about it. It's suppose to help nourish and protect your hair from the sun. The full-sized product retails for $18.99 on Target's website.
Olay Active Botanicals Moisturizing Toner – I haven't tried this product yet, so don't have anything to say about it. It doesn't have much of a smell which I like.  The full size retails for $14.99 on Target's website.
Olay Active Botanicals Moisturizing Day Lotion – This sample is the same size as the toner and goes with it obviously. I haven't tried it either as I'm going to save it for traveling.
Crest 3D White Whitestrips 1 Hour Express – This is just one foil packet for one usage. I've used Whitestrips before and they do work. Sometimes they cause sensitivity to my teeth and gums so I rarely use them. I actually have a whole package of the Crest 3D White Luxe Supreme Whitestripes under my sink and would recommend those ones. Not sure about these 1 Hour Express Whitestrips though as I haven't tried them.
So overall, Target's Beauty Box is awesome! It retails for a lot less than the value and you know exactly what you are going to get before you even order it. The only downsize really is that the quantities are limited and if you miss the release you won't get your hands on a box. But you can still purchase all the products at Target for full retail price.