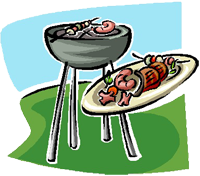 When your guests grab their juicy steak, burger, chicken, or pork off the grill they head straight to the buffet table. They are looking for the perfect condiments to dress that meat in the best fashion. What are you going to offer them?
Condiments are more than mustard and ketchup these days. You have to offer something hip and happening to thrill your guests. Even the family won't be thrilled with the same old stuff. Try these ideas.
First, everyone is watching their weight these days. Health is important if we want to live to be the ripe young age of ninety-five like many seniors today. The fewer fat, calories, and preservatives we ingest, the better our bodies will feel.
Do you have salad or grilled veggies on the menu? How about whipping up your own dressing to complement them? Start with some extra virgin olive oil. Add some vinegar and a few herbs and seasonings. The best herbs to use are fresh ones. You can find them easily at your local supermarket or farmer's market.  
To save time and money, grow a few of your own. All you need is a sunny spot. Herbs are not hard to grow or maintain. A fresh leaf is a few steps away whenever you need them. Place a few fresh sprigs in the jar with the vinegar and oil. Add other flavorful spices and shake. Showcase your flavorful dressings on the table to drizzle over salad greens and even grilled meat.
Relish has gotten a facelift these days. Pickle relish is good for hamburgers and hotdogs, but not the best for chicken, pork, and beef. Dress up that pork chop with some mango or tomato relish. Even pico de gallo will add a zing to a grilled chicken breast. Fruity relishes with a hint of cilantro combine sweet and tangy for a unique flavor.
Put away the mayonnaise. Instead, pick up a container of sour cream and mix it with some dry salad dressing mix like ranch dressing. If you use fat free sour cream you reduce the number of calories for your guests but you don't take away any of the taste they deserve. Mix in some chopped green, red or yellow peppers and onions if you want. It is your dressing so create some interesting combinations for everyone to try.
If you are feeling particularly good, make your own barbeque sauce. I don't usually have time for that, but I do take a simple barbeque sauce from the store and mix in some apricot preserves. The combination of sweet and tangy makes a perfect brush-on sauce for pork chops and chicken.
Whatever your tastes, give them a kick into high gear. Experiment with your condiments and find a new taste sensation.
Happy Grilling!