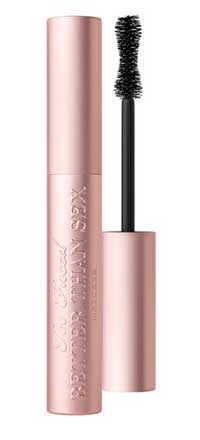 I have NEVER purchased a high-end mascara before and only go for drugstore mascaras.  I've tried samples of high-end mascaras but have never been that impressed to spend 5-10 times as much as I do on a drugstore mascara.  I was given the Too Faced Better Than Sex Mascara from Too Faced for the purpose of review.  I was holding off on reviewing it because I wanted to use up some of my current opened mascaras but finally opened it for New Years Eve.  
Too Faced Better Than Sex Mascara claims…
That your lashes will be full after one coat of their carbon black, collagen-fueled formula.  
That it is smudge-proof and provides all day wear.  
To nourish, thicken and lock curl into place.
To provide 1,944% more volume.
You can find Too Faced Cosmetics online on their website and in stores such as Sephora.  I own their Natural Eye Palette and absolutely love it but haven't purchased any of their other products. The Better Than Sex Mascara retails for 23 USD on their website, it is $30 in the Canadian Sephora and you get 8 ml total of product.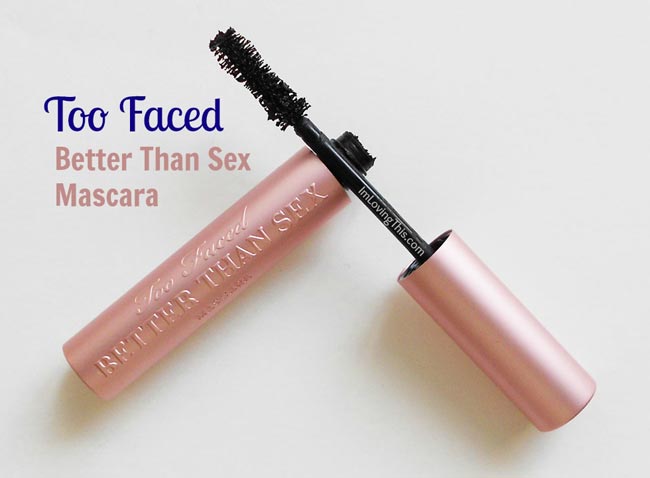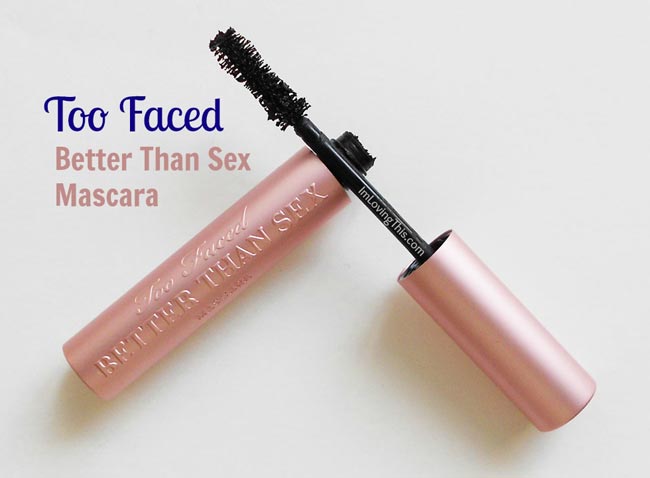 First off, I love the mascara bottle.  It's pink and the name of the mascara is embossed on the bottle.  It's very heavy and wouldn't be the ideal mascara to take traveling or to leave in your purse. It feels very luxurious and it should for the price.  But personally I would prefer to have it in a cheaper container if it would lower the price.
The handle of the wand is the heavy part so it feels different when applying this mascara as opposed to my usual ones.  The brush is in an hourglass shape which is suppose to help separate and coat each lash for voluptuous perfection. 
After applying just one coat of the Better Than Sex Mascara I was truly amazed!  This mascara is awesome, my lashes look so full and long after applying just one coat.  I've never had a mascara work so well in my life!  I really only need one coat of this mascara to get a dramatic look.  I haven't even tried three coats but the box says that three coats will achieve the most intense black, over sized, multidimensional lashes.  Two coats is the max I would probably wear on my lashes, even one coat is too much for a trip to the grocery store.  This mascara is truly fab!
I had been using Latisse for the past year and had super long lashes, but used it all up and am now back to my normal lashes.  I can't image how insane my lashes would have been if I had paired the Too Faced Better Than Sex Mascara with Latisse. 
I must mention that I have this problem when I wear mascara and it happens every time, no matter what mascara I have on.  I've tried setting my mascara, I've tried waterproof mascara, I've tried expensive mascara.  I've tried everything.  My problem is that after a few hours of wearing mascara my eyelashes leave black marks on my brow bones.  Like black smudges, and it isn't because I'm not letting my mascara dry.  It happens at least an hour after applying it.  I'll look in the mirror and see black smudges and be like OMG!  They wipe right off, but I never know how long I've been walking around like that.  So now I'm in a habit of constantly wiping my fingers across my brow bone in case I have mascara smudged there. 
I'm ecstatic to say that the Too Faced Better Than Sex Mascara stays put all day!  I've worn it 5 times now and never has it transferred to my brow bone.  I even wore it on New Years Eve, and that was a long night.  I'm super excited about this and might just have to make this my regular mascara.  I am interested to see how it holds up in the summer as well though when my skin is on the oily side. 
I'm not sure how long the product lasts before drying out as I typically pitch my mascaras after 6 months.  I've never actually used up a mascara, I just end up tossing them when I feel that I've had them for too long. 
Like I said in the beginning of my post, I've never spent money on higher-end mascaras but the Too Faced Better Than Sex Mascara has won me over.  I will be repurchasing this mascara, it's too good to be ignored.  Luckily I travel to the states a lot and can get it for $23 instead of $30.  I highly recommend this mascara if you are looking for a new mascara.  Trust me, you won't regret it, although I don't think it's better than sex!
Have you ever tried the Too Faced Better Than Sex Mascara?  
What are your thoughts?
I'd love to hear in the comments what your favourite mascara is, although I think I've found my holy grail mascara.