If you have been following this blog than you know that I have started running.  I went out and purchased myself some running attire to help me succeed and feel good while running.  
You will need a few things to run in comfort.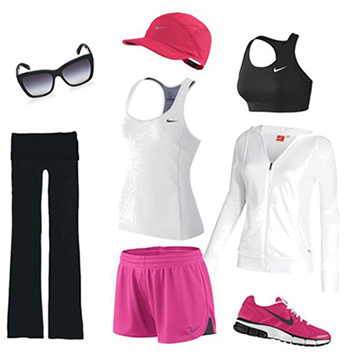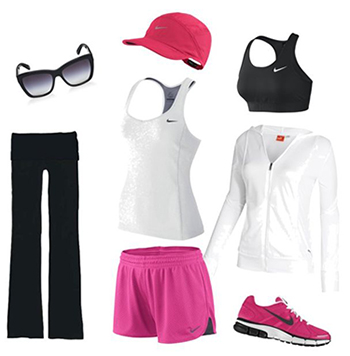 First thing's first.  If you don't have a good pair of running shoes you will need to splurge and buy yourself some.  You will want a supportive pair that is very comfortable and fits well. 

You will also want a nice pair of pants or capris to run in.  I prefer to wear tight yoga capris or pants as I find them the most comfortable.
You may also want to get yourself a pair of shorts for warmer days.  I found these cute pink shorts made by Nike that I really like.  Make sure they are comfortable and do not ride up or fall down while you are running. 
You will also want to get a comfortable fitting tank top or t-shirt.  I prefer tank tops as short sleeves tend to bother me.  You could go for either a tight fit or loose fit top.  It all depends on what is comfortable for you.
I also purchased myself a lightweight training jacket for when it is cooler outside.  I tend to run in the morning or late at night when it is cooler out.  I really like Adidas' training jackets, look for one with breathable material as you may get hot while running. 
Don't forget to get yourself some hair ties.  I always put my hair up in a pony while running to keep it out of my face.  You do not want any distractions.
You may also want to get some sunglasses and a hat for sunny days.  I usually run with my sunglasses on so I don't end up squinting if it gets sunny.  You should always protect your eyes and prevent wrinkles. 
Don't forget about getting a good sports bra for support.  You want to make sure you make running as comfortable as possible for yourself.
I hope this helps you with finding the proper clothes to run in or do any kind of exercise.