Jealous Body Scrub is a new and upcoming company located in Vancouver, B.C. Canada. Yay, my hometown! 🙂 They reached out to me and asked if I wanted to try their new product and since they were a local company I decided to give it a go.
The Jealous Body Scrub is made of all natural ingredients. Each scrub contains a mixture of fresh, ground coffee, coconut oil, sea salt, raw brown sugar, vitamin E and minerals. It comes in a zip lock paper package with a foil lining. You get a total of 7 ounces of product, which is a decent amount. The scrub retails for $17.95 and is only available on their website. They ship worldwide so anyone can get their hands on this fabulous product. They currently only have a Coffee + Coconut scrub but told me that they will be expanding in the future.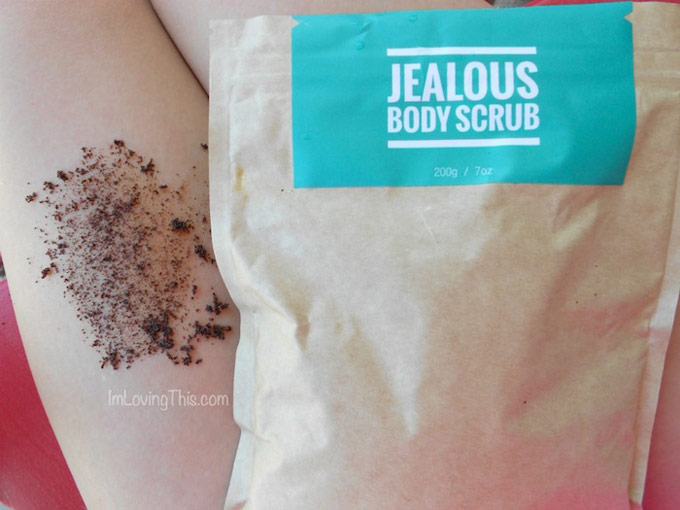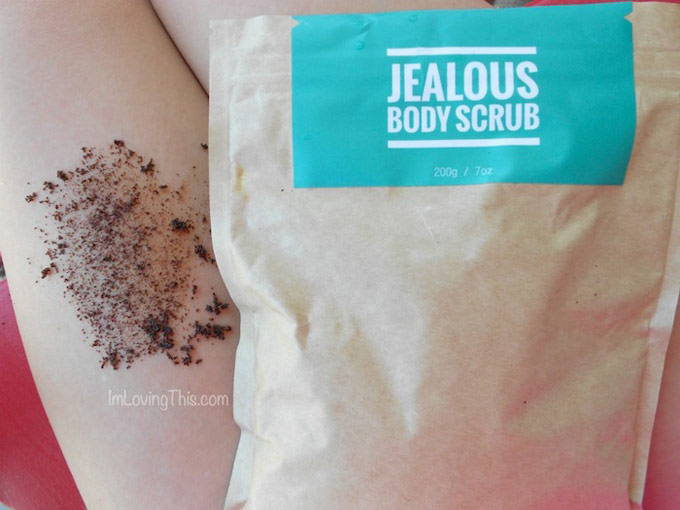 The Jealous Body Scrub reminded me of the popular Frank Coffee Scrub although I've never tried that scrub before so can't compare the two. But you might know of that scrub and they both have the same packaging.
The Jealous Body Scrub says that the coffee grounds help stimulate blood flow which helps reduce the appearance of cellulite, eczema, stretch marks, age spots, varicose veins, psoriasis and acne. The brown sugar and sea salt are there to exfoliate and rejuvenate your skin. The organic coconut oil hydrates and moisturizes skin and the vitamin E and minerals repair skin.
When I opened the package I was instantly awakened by the great smell of coffee.
I'm not a coffee drinker and actually hate coffee, but I love the smell of coffee. I know, I'm strange. I was worried the scrub would smell like coconut but all I could smell was the wonderful smell of coffee.
The directions say to take 2-3 scoops and rub it all over your damp/wet body in a circular motion and let it sit for 5-10 minutes. The longer you let it wait the more results you will see from using it.
When I use the scrub I take a small dish and scoop about two spoonfuls into the dish and take it into the shower. You don't want to get the scrub inside of the bag wet so I think that it's the best way to prevent that from happening. It's a little inconvenient and my boyfriend asked me why there was a spoon in the shower… But it is worth the little bit of effort.
The scrub is pretty messy, it's coffee grounds, so expect your shower to get dirty in the process. It rinses right away though so don't worry, there's no difficult clean up after.
I don't typically leave the scrub on for 10 minutes cause to be honest I just don't have the patience to stand in the shower and wait for that long. I probably leave it on for about 5 minutes. I even apply the scrub to my face, and rub it around in a very gentle motion without any issues.
The first time I rinsed the scrub off I was amazed, it seriously made my skin unbelievably smooth. I dried off and I didn't even feel the need to put lotion on after my shower, but did anyways. My skin has honestly never felt so soft before. I was and am still amazed and was instantly hooked on the Jealous Body Scrub. Every time I use the scrub I can't stop feeling my skin all day long cause it just felt so soft. It is the best body scrub I've ever used, and I've used a lot of scrubs.
The Jealous Body Scrub is a great body scrub to prep my skin before applying my self-tanner. I will let you know if my tan lasts longer or looks any better using it with this scrub.
I haven't seen any results from coffee grounds yet but have only used it a few times so it's hard to say. Plus I'd probably have to use it for the 10 minutes each time, which I never do.
I LOVE the Jealous Body Scrub and told my boyfriend he needs to try it because it works so good. We will see if he ever does, will let you know what he thinks.
The scrub runs for quite more than I like to spend but it really is worth the price and I will be ordering another package in the future.
I highly recommend trying out Jealous Body Scrub, it's phenomenal!
Slough off all the dry winter skin and start with fresh, soft skin for the upcoming Summer. It feels like summer here in California already and I plan on using this scrub all summer to keep my skin looking smooth.
If you try it out let me know what you think in the comments below. 🙂