I just received my Birchbox because my bank card was compromised so my payment didn't go through. It ended up delaying the box like a week. I wasn't even going to bother writing about it but thought I should since I won't be able to next month. I'm headed back to Vancouver in a few weeks so won't get my subscription boxes until I go back to the US…
I'm pretty happy with August's Birchbox. It did contain a perfume sample and I don't really like receiving perfumes. There aren't many perfumes that I enjoy. I think scents are very personal and it's hard to pick on someone else would like. Although I lucked out and the perfume in this month's box is decent.
I really like how Birchbox includes an information card so you can learn more about each product. I still wish that Ipsy did the same.
Here's what I received in my August Birchbox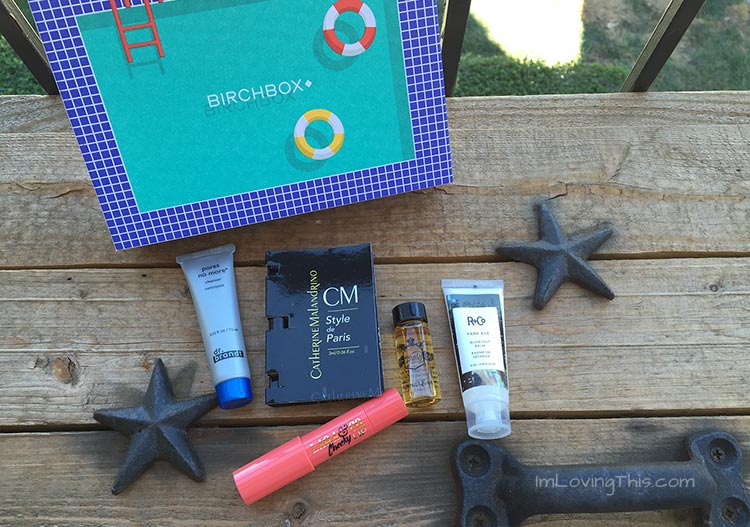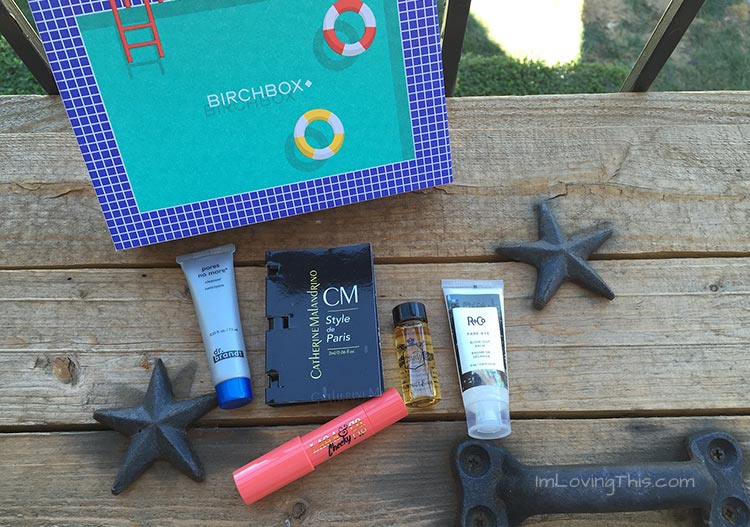 Beauty Protector Protect & Oil
I've received a product from Beauty Protector in Birchbox in the past and I loved it. I think it was the Protect & Detangle that I was given in the past. Their products smell divine, I would love to own their entire range. Beauty Protector is very pricey and that's the only thing that keeps me from buying their products. I'll probably use some Birchbox points in the future to buy Beauty Protector products. I haven't tried this hair oil as I have so many open right now. But I'm pretty sure that I'm going to love it. The hair oil claims to keep your hair healthy and shiny, defend against UV rays, heat and breakage. The full size retails for $25.95 which is a price I'm willing to pay for a good hair oil because they seem to last forever.
Catherine Malandrino Style de Pairs
This scent was created by fashion designer Catherine Malandrino. This is the description of the scent since I'm horrible at describing scents…
Mixed with fun fruits (think: Italian Mandarin, ruby red grapefruit, and Nashi pear). The citrus top notes open up to aromas of lush orange blossom, sweet jasmine, and fresh gardenia. The fragrance rounds out with hints of amber and musk, leaving behind a lovely blend that captures a flirty but refined mood.
Even though I'm never excited about receiving perfumes, this scent is ok. Smells like more of a day-time summer scent. It's very sweet and I feel like the younger crowd would enjoy it most. I did notice the scent disappeared pretty quick on my body after applying it. Not sure if that's just me or if that would be the case for everyone. The perfume retails for $80 for 50 ml.
dr. brandt pores no more cleanser
It really bothers me that their name is all lower-case, but that is how it is so that is how I wrote it. I received the pores no more primer in my Birchbox exactly one year ago. I haven't even finished that primer, as I always forget to use primer and have about 5 open right now… I really liked the primer so hoping I enjoy the cleanser just as much. It smells minty fresh so if you don't like mint then this cleanser is not for you. I on the other hand love anything mint scented so I'm excited to try this cleanser. The description says it's an award-winning gel that degunks pores for fewer blackheads and smoother skin. "Award winning" has never persuade me to buy a product, and I can't find any info on what award it won. The full size retails for $35 which a lot more than I like to spend on cleansers.
LAQA & Co Cheeky Lip
I received the colour Cray-Cray (coral peach) from a set of three that you can purchase called the Charm School Kit. This is a lip / cheek jumbo pencil type product. I don't own any colours like this and have wanted one. I didn't like it as a lip product because it instantly made them dry and flakey. I do really like the colour though. I think it will be nicer on my cheeks and am excited to try it that way. The full set of 3 retails for $20 and the colours you receive are Cray-Cray (coral peach), Mixtape (ruby rouge), and Humble Brag (blush pink).
R+Co Park Ave Blow Out Balm
I've never used a blow out balm so I'm excited about this product. I don't really dry my hair with a round brush because it's so long and I can't reach. But I might have to attempt it to see how well this performs. I bet it will make my hair look smooth without a round brush but using a round brush is probably the way to achieve the best results. It doesn't have much of a scent from what I can tell. Maybe I'll try it tomorrow to see if I like it. The full size retails for $28.
What product are you must excited about in August's Birchbox?