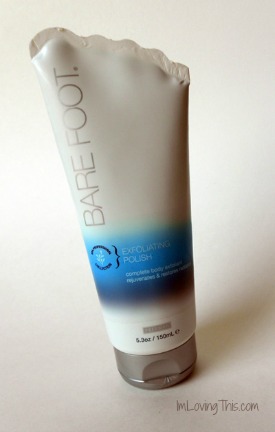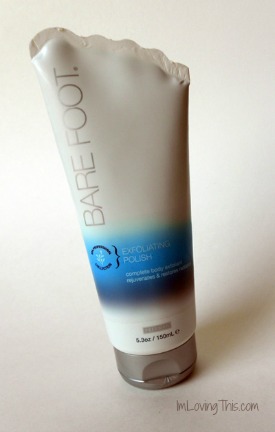 A few weeks ago I received a voucher from Influenster for a bottle of the Freeman Beauty Bare Foot Spa Professional Exfoliating Polish.  Freeman makes one of my favourite, holy grail products, Charcoal & Black Sugar Facial Polishing Mask so I was excited to have the opportunity to try out their new Spa Professional Collection.
The Freeman Beauty Bare Foot Spa Professional Exfoliating Polish retails for $4.99 at Walmart and is also available on Freeman's website for $5.99.  You get 5.3 ounces in a squeeze bottle.  The packing looks nice, it is white and blue and looks spa-like to me.
The product claims to:
Be a full-body exfoliate that leaves skin touchably smooth
Contains Mica, to dust skin in a delicate shimmer and glow
Contains Apricot Oil and Vitamin E to help counteract dryness
Has non-abrasive micro-granules that buff away dead skin, leaving skin smooth and nourished.
The directions say to massage the exfoliating polish onto damp skin and then rinse.  I always use body scrubs in the shower and did so with this one.  The polish is light blue in colour with tiny granules that glisten.  The scent is fairly light and pleasant, it reminds me of being at the spa.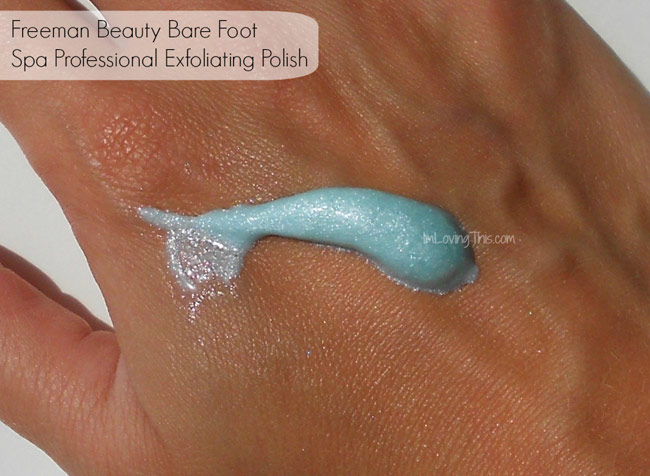 It is a fairly smooth scrub, and almost has the consistency of a deep conditioner.  It applies easily and is very gentle.  The granules are small and gentle, this would be a great scrub for sensitive skin, unless you are too sensitive for fragrance.  It is not harsh like a sugar scrub and contains about a medium amount of granules/beads.  You can see the Mica in the exfoliating polish as you massage it into your skin.
After your rinse and towel dry off you can see your skin glistening.  It is very subtle, and I doubt people would even notice that your skin has shimmer on it.  But it does make it look better.  I really like the effect the Mica gives and would love if their moisturizing massage cream that goes along with it also contained Mica.
I don't have dry skin so couldn't really tell if my skin was more moisturized after.  I decided to test it out by using it on one leg and not the other.  The leg that I used it on did look better and feel softer after using the polish.  It helped smooth out my skin and left a slight shimmer to help hide any imperfections.
I am really enjoying the Freeman Beauty Bare Foot Spa Professional Exfoliating Polish and think it is great, gentle exfoliator for summer.  I will probably buy another bottle in the winter and try it when my skin is slightly dry and see how well it works.
Have you tried any of Freeman's products?  Which ones are your favourite?
*I received these products complimentary from Influenster for testing purposes.