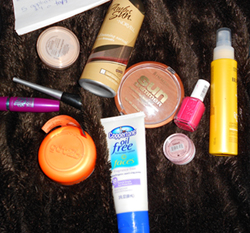 I don't wear much makeup during the summer, usually just if I am going somewhere special or for a dinner.  Below is a list of my top 10 go to products for the summer.
1)  John Frieda Sheer Blonde Go Blonder Controlled Lightening Spray – I love this spray to help give my hair bright blonde highlights.
2)   BareMinerals Matte SPF 15 Foundation in Medium Beige – I find that this is a very light foundation for summer and it doesn't melt away in all the heat.
3)  Wet 'n' Wild H2O Proof Liquid Eyeliner in Ultra Black – This eyeliner stays put all day and it is super cheap.
4)  Maybelline Volum' Express The Falsies Waterproof Mascara in Black – This mascara stays in place and is really waterproof.
5)  e.l.f. mineral eyeshadow in Sweet #6503 – I wear this the most in the summer when I do wear an eye shadow.  It is a beautiful light pink shimmer colour that really helps light up my eyes.
6)  got2b Defiant Define & Shine Pomade – I use this to tame all my flyaways.  It smells really nice too, like oranges.
7)  Rimmel Sunshimmer Shimmering Maxi Bronzer in Sun Queen – I use this bronzer to contour my face. I often find myself wearing just this with no other makeup
8)  Amber Sun by Norvell Self Tanning Aerosol – I use this to get my tan started in the summer or to even out my tan.  Or if I have a rainy period where I can't catch any rays.
9) Essie Peach Daiquiri Nail Polish – This is my go to nail polish colour for the summer!
10)  Coppertone Oil free Faces SPF 30 Sunscreen – I apply this to my face whenever I am out in the sun.